"This bread is so good and can easily be made by hand and tastes so much better than anything you'll every buy in a bakery. This is an adaptation from a recipe found in Kosher By Design cookbook."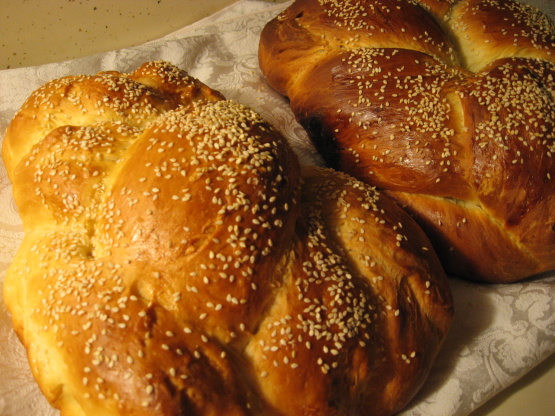 Sweet Challah Bread-For Beginners and Experts
2 recipe photos
Directions
Boil approximately one cup of water. Add enough cool water to reach 1 1/2 cups. Put your finger in the water and count to ten. If you cannot keep your finger in that long then your water is too hot and let it cool but it should still feel hot to the touch. Now you are ready to add the yeast. Dissolve the yeast well in the water and stir. Now add the sugar. After a couple of minutes the yeast and water should start bubbling up and that tells you that it is working. If it doesn't bubble up you must throw out the yeast and start over.
Sift your flour into an extra large bowl. You don't have to sift the flour but your results will not be as wonderful.
In a separate bowl combine remaining ingredients except for the salt and mix well. Now add egg mixture to the flour mixture. Add yeast mixture and begin combining. Add salt before dough is fully combined. Now you can start mixing with your hands. Turn dough over and over and punch down again and again until the dough feels smooth and pops back up when you push it down. If it feels too sticky add a couple of tablespoons of flour at a time until you have reached the right consistency (the dough should not stick to your hands). You are now ready to let the dough rise. Spray the large bowl with oil spray as well as the top of the dough. Cover with a towel that is wet with warm water (but not dripping). Keep in mind that the dough will expand to about two to three times it's original size so your bowl needs to accomodate that. After your dough has reached a good size you can form you challah into desired shapes which is typically braided. Place in baking pan with room left to expand. Cover once again and allow to rise to double it's size. Now you can glaze the challah with a thin layer of egg white and sprinkle on desired topping. Place in a heated 350 oven for approximately 40 minutes. You know it is ready when the tops are nicely browned and when you turn over your challah and tap the bottoms you'll hear a hollow thumping sound. Enjoy!