Community Pick
Sweet Potato Burgers Avocado Salsa and Garlic Spread #RSC
"Ready, Set, Cook! Reynolds Wrap Contest Entry. As summer winds down and tailgate season heats up I wanted to create a recipe reminiscent of grilling out as we moved into fall! Sweet potatoes are such a fall food for my family and I love putting a healthy spin on a plain old burger with this unique recipe!"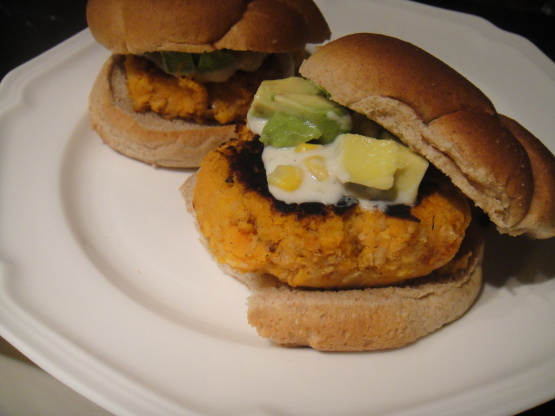 Sweet Potato Burgers Avocado Salsa and Garlic Spread #RSC
3 recipe photos
Directions
Preheat oven to 375 degrees.
Rinse sweet potatoes in cold water, wrap in Reynolds Wrap Foil and poke several times with a fork.
Bake for 1 hour (or more) depending on the size of the potatoes.
Take 2 bulbs of garlic, chop off about 1/4 inch of the tops, drizzle with olive oil and wrap in Reynolds Wrap Foil.
Garlic can cook 30-35 minutes with Sweet Potatoes.
Remove garlic and sweet potatoes from oven and allow to cool.
Once cool, mash cannellini beans in a large bowl with sweet potatoes.
Add in spices, egg, and panko.
Mix all of these ingredients together and refrigerate for 20 minutes to help stiffen for burgers.
Meanwhile mix the sour cream with the 2 roasted bulbs of garlic, squeezed for all the good stuff, honey, salt, and pepper.
Blend until smooth.
Take avocado and chop into bite size chunks and in a small ball combine with sweet corn, lemon juice and cilantro for topping.
Heat a large pan over medium with olive oil.
Take sweet potato mixture and shape into 4 patties.
Cook on each side approximately 6-7 minutes until patties seem to hold together and flip.
Add the patties to your whole wheat buns and top with avocado mixture and garlic cream sauce.
Add lettuce, tomato and onions if desired.