"Think pumpkin pie, but with pureed beans and oatmeal instead of pumpkin! The texture of the filling is similar to a pecan pie with ground pecans, but the taste is just like any Fall-flavoured custard. Adapted from Bean by Bean by Crescent Dragonwagon."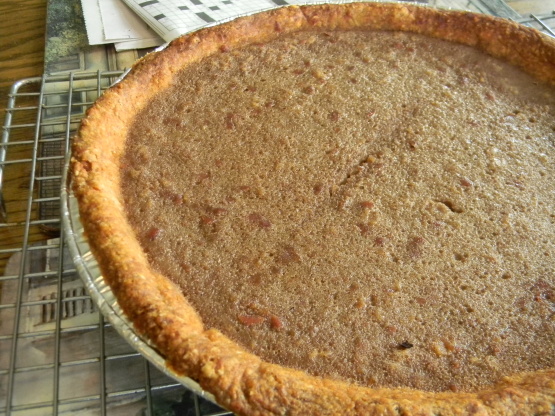 Sweet Red Bean Pie
1 recipe photo
Directions
Preheat oven to 425F and place the pie crust on a rimmed baking sheet.
Puree the beans, butter, sugar, vanilla, milk and eggs in a food processor until smooth.
Add the allspice, nutmeg, cinnamon, tapioca starch and rolled oats and process until smooth and the oats are finely minced. Mixture will be fluid.
Pour into the pie shell.
Sprinkle with pecans, if using.
Place the pie in the oven and bake on the middle rack for 12 minutes.
Reduce the temperature to 350F and move the pie to the lowest rack of the oven.
Bake for 30 minutes, covering the pie with foil after 20 minutes if it's browning too much.
When done, the filling will be completely set.
Cool completely to room temperature, then chill overnight before serving.