"This recipe is really good! It sounds like a weird combo, but it's surprisingly tasty. I thought it up one day because I didn't have any cheddar cheese and wanted to try cream cheese on a quesadilla. You can serve with salad and salsa for a simple yummy meal :)"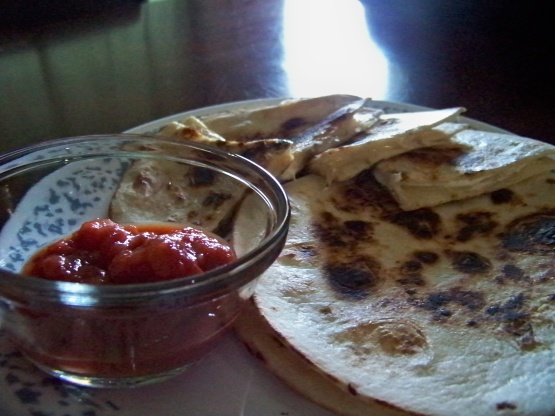 Swiss Cheese and Cream Cheese Quesadilla
1 recipe photo
Directions
Spread cream cheese on to one of the tortillas. You may need more depending on size of tortilla.
Put swiss slice on top of cream cheese, and combine tortillas.
Toast quesadilla in toaster oven until it reaches your level of crunchiness. (I do it on meduim heat for about a minute or two) You could also do this in a microwave, or fry it.
Remove from oven, slice with pizza slicer into triangles, serve with salsa and enjoy!