"This is another Arabic dish I learned while living in Syria. This dish is a lot of work but well worth it.To make it correctly, the zuchini must be very small, under 6" long. Hollowing them out perfectly takes years of practice but you can still use zuchinis that you have poked holes through. Try to hollow them out as much as possible so the walls feel thin. You may be able to find a special tool for this purpose at an Arabic store or you can use a thin metal potato peeler with a sharp point on one end. After washing, cut off the stem and insert the tip of the peeler into the middle of the zuchini and turn it, pushing down into the zuchini at the same time. You want to try to remove as much of the white part as possible. Core the zuchinis first, before starting anything else in the recipe. I have seen other recipes saying to use an apple corer to hollow them, but I have never done this myself. The rice should be soaked in hot water for 2 hours before cooking and thoroughly washed so its water is clear, not cloudy. This reduces its cooking time. Do not substitute margarine for the butter. It is mostly water and will evaporate and burn before browning the vermicelli."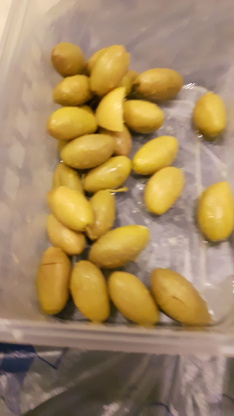 Syrian Stuffed Zuchini in Yogurt Sauce (Kousa Bi Laban Souree)
1 recipe photo
1

lb ground meat (beef or lamb)

1

cup pine nuts

1

cup peeled slivered almonds (not thin sliced or chopped)

10 -15

small zucchini

2

(32 ounce) containersof arabic yogurt (Romi's, Arz)

1

cup milk, halved

2

eggs

2

tablespoons cornstarch, halved
1 1⁄2 cups medium grain rice
3⁄4

cup of raw vermicelli
Directions
In a small frying pan, fry the pine nuts and almond slivers together until they turn brown on medium heat. They will burn very quickly, so be extra vigilant. Drain them onto a paper towel when browned. This step should take about 5 minutes.
In a larger or the same frying pan as before, brown the ground meat until thoroughly cooked. You may season it with salt and pepper or seasoning salt if desired. Once thoroughly cooked, add the nut mixture and stir well. This step should take about 20 minutes. Use this time to start boiling a large pot of water.
Once the meat mixture has cooled enough, stuff each zuchini as full as possible without breaking them, especially if some were poked through during the coring process. Stuff all of the zuchinis. This step should take about 20 minutes.
In a large frying pan, add some cooking oil on medium heat. When hot, add the zuchinis and fry them until they start to brown, turning so both sides are more brown than green. You will know when they are done. This should take about 15 minutes.
Directly after browning, add zuchinis to the waiting pot of hot water, about an 8 quart pot. If your pot is not big enough, you can do them in batches. Boil them for 10 minutes then transfer to a plate. Some meat mix may come loose, this is normal.
To make the yogurt sauce, mix one container of yogurt, one egg, half cup of milk and one tablespoon of corn starch in a blender. Pour into an 8-qt non-stick pot. Repeat with second container of yogurt.
Cook yogurt sauce on medium heat, stirring quickly and constantly until the sauce thickens. Add 1 crushed beef buillon cube. You will know the sauce is done when it begins to stick to the pan and coats your stirring spoon. DO NOT LET IT BOIL! Salt to taste. This step should take about 15 minutes.
Add the zuchinis to the yogurt sauce and let them cook on medium-low heat for about 20 minutes. Again, no boiling.
Now for the rice. Add the butter or ghee to a 3-qt or larger pot. Heat just until the butter begins to melt and add the vermicelli noodles and stir until all noodles are coated. Turn up the heat until they begin to fry and turn brownish in color. This should take about 7 minutes.
Add the white rice to the pot and stir to ensure even distribution of the noodles and rice. From here on out, follow the directions on the bag of rice. If you are going to salt it, do so when you add the water. This step should take about 25 minutes.
Serve in a nice serving bowl and enjoy!