"I love Tabouli... I checked recipes here, other online sites, and my cookbooks. This is how we like it. It was excellent. I wish I had made more because it took me hours to chop everything! There is enough left over for tomorrow. Next time, I will start sooner. The time does not include the rest it needs for the flavors to blend. Our tomatoes are ripe, we have plenty of parsley, mint, onions, and cucumbers from our garden... what a perfect time for Tabouli!"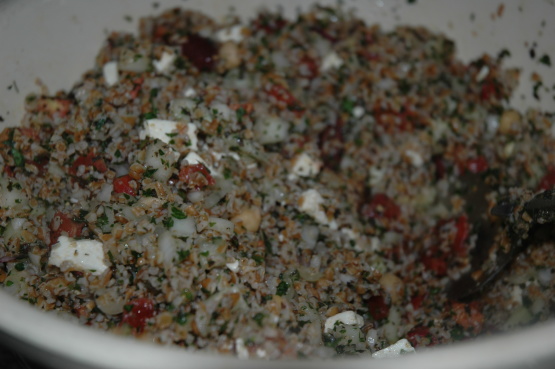 Tabouli... Tabbouleh Supreme
7 recipe photos
Directions
Place wheat in bowl, pour in boiling water, stir and cover.
Let this rest 30 minutes to 1 hour. I tend to use less water and shorter time, as I like the firmer texture and nuttier flavor.
Rinse and sort Chickpeas for debris, add 4 cups water, and bring to boil.
Boil 2 minutes, take off heat, and cover for 1 hour.
Drain soak water, rinse beans, cover with about 4-5 cups fresh water, and simmer gently until done. (about 45 minutes).
While wheat and chickpeas are doing their thing, chop the rest of the ingredients.
If I am using regular tomatoes, I drain them, using the juice as part of the liquid for the wheat.
Drain wheat and squeeze out any excess liquid.
Place in large bowl, and toss gently with fork.
Add mint, parsley, onions, cucumber, tomatoes, olives, salt, and spices, tossing gently after each ingredient.
Add 1 cup of the chickpeas (drained) saving the rest (in the liquid) for other fun things, like adding to salads.
Gently toss tabouli again.
Whisk together the oil and lemon juice to make a dressing. Dress the salad.
Refrigerate, allowing one hour (or more) for salad to rest, letting flavors mingle.
Place generous spoonfuls onto lettuce leaves, garnish with feta, and serve.