"This is a recipe that can use any cooked beans. I do not use tomatoes but tomato sauce and I use fresh corn off the cob mixed with butter and evaporated milk. You can use canned whole kernel corn, drained and do the same with it. I have refined this over the years. This version is what I use. You can add 1/2 pound of cooked ground meat if desired. I serve meatless with fresh tomatoes and fresh orange slices. I like this because it tastes like a filled tamale without the work of filling, binding and steaming all of the filled husks. Note: I increased milk to 1/3 to 1/2 cup based on reviewer comments. You could double the batter base and topping and cook about 10 minutes longer."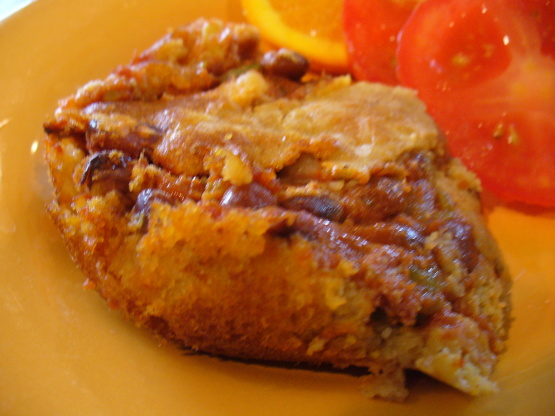 Tamale Bake With Pinto Bean, Green Chilies, Corn & Cheese
2 recipe photos
Directions
In medium saucepan,add the first four ingredients, saute onions, garlic.
Then add flour and mix well. Add pinto beans and tomato sauce. Heat until hot and simmering. Do not burn.
Preheat oven 350°F.
Spray Pam in a glass 9X13 pan or glass 8 X12 pan.
Mix batter base and topping.
Pour 3/4's of batter in the bottom of pan.
Batter should be runny.
Add 1 cup shredded cheese over the batter.
Add contents of saucepan by spoonful.
Sprinkler the chili powder.
Add whole kernel corn by spoonful.
Drizzle the balance of cornmeal batter across lengthwise in thin lines.
Sprinkle 1 cup Monterey Jack cheese on the top.
Bake 35 minutes. Batter will rise up on the sides of the pan and encase the filling. The top should just start to brown and when pushed spring back.
To serve this with the serving in tact, cool for at least 15 minutes.
Note: For one can of whole kernel corn, drained, add 1 tbsp margarine or butter and 1 tbsp evaporated milk if desired. Or, 2 frozen cobs of corn, microwaved, cut the corn off the cop, add the butter and milk.
This dish keeps well in the freezer.
You can add cumin, cilantro or any ground cooked meat if desired but I serve as a vegetarian dish. You may also add sliced olives.