"This is an adaptation from Gale Gand, one of my favorite pastry chefs. These cookies are so good! They have the texture of a madeleine. They are tiny, so guests can eat at least a few of them. If you can't find tangerine marmalade, you could probably substitute orange marmalade or jam (though I love the taste of Aloha's tangerine marmalade). Thank you to FLKeysJen for putting this in her best of 2009 cookbook!"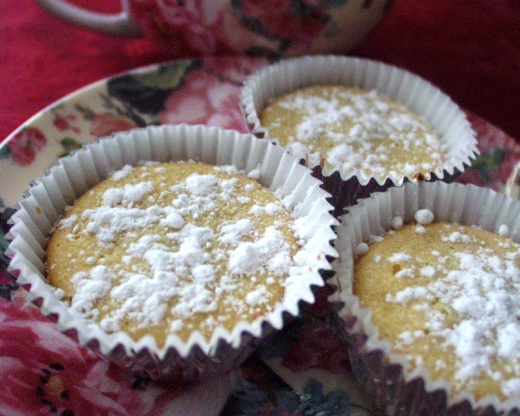 Tangerine Tea Cakes
7 recipe photos
Directions
These tiny tea cakes can be prepared in a silicone tart pan, or in petit four or mini muffin paper cups. If using, arrange cups on a sheet pan. Yield will depend on the size you choose.
Preheat oven to 350 degree F.
In a mixer, beat almond paste, marmalade and zest for a few minutes, until broken apart. Add eggs one at a time, adding the single yolk last. Mix in the flour on low speed, until just combined. Scrape down the sides of the bowl, then add the melted butter, and mix until blended. Batter will be very thin.
Fill tart pan or cups nearly full using a spoon or pastry bag, if preferred. Bake until firm and lightly browned, about 20 minutes. Cool completely. Dust with powdered sugar. These can be served right in the cups. Enjoy your little gems!