""Tartufi" is Italian for "truffle". These balsamic vinegar in these simple treats adds new depth and dimension to the dark chocolate."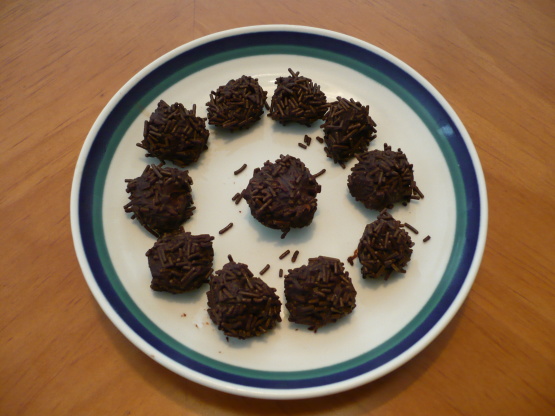 3

(1 ounce) dark baking chocolate squares

1⁄4

cup whipping cream

2

teaspoons balsamic vinegar

5

tablespoons chocolate sprinkles
Directions
Heat chocolate and cream in a saucepan over lowest heat, stirring until almost melted.
Remove from heat and stir until smooth.
Add vinegar and stir.
Chill, uncovered, for about 1 hour until just fim enough to form into balls.
Form into balls, using 2 teaspoons for each.
Roll each ball in chocolate sprinkles until coated and place on wax paper-lined baking sheet.
Chill until firm and set, about 4 hours.
Enjoy!