"Well, I was looking for something to do with the ground turkey I had, and couldn't find anything that interested me, So, I combined a sausage balls recipe I like with the ground turkey. The result; Really tasty turkey appetizer balls. They would also be good with a pasta, or so I am told. AND THEY ARE SIMPLE!"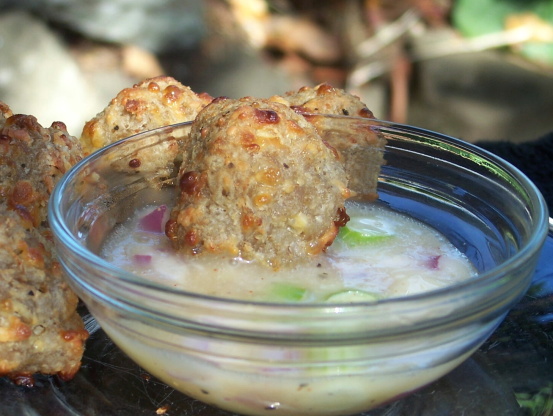 Tasty Turkey Appetizer Balls
1 recipe photo
Directions
SIMPLE:.
Before you begin preparations, preheat your oven to 400°F.
First, pour everything into a bowl.
Second, mix everything together really well. Use your hands, it's the best way to knead it all together and really spread in the Bisquick.
Third, roll the resulting "dough" into balls about 1-inch diameter.
Fourth, place the 1-inch balls on a cookie sheet and place into the oven.
Last, cook them for 12- 15 minutes, until golden brown.
Serve your turkey balls almost immediately, HOT.