"Chef Tal says, "This is a fun recipe. White balsamic has a milder taste than the more common dark kind, and good when boiling beets because it doesn't compete with the flavor of the vegetable. Once beets are cooked, you slice them thin, fill them with tofu ricotta, dip them in tempura batter and fry them. The red bleeds through the batter for a pretty presentation. and they're just delicious", in his cookbook The Conscious Cook."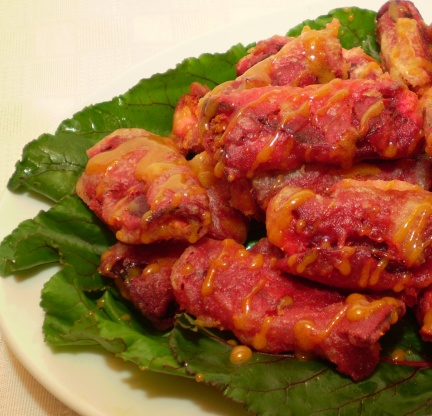 Tempura Beet Rollatini With Balsamic Gastrique
1 recipe photo
Directions
Place the beet in a pan and cover with water. Add vinegar, and bring to a boil. Cook until tender when pierced with a fork, about 40 minutes. Place the tofu, nutritional yeast, onion, lemon juice, cashew cream, miso paste, 1/2 teaspoons salt, and 1/8 teaspoons pepper in a food processor and blend until the mix has the texture of ricotta cheese.
In a small bowl, prepare the tempura batter according to the package directions, then fold in chives, 1 teaspoons salt, and 1/4 teaspoon pepper.
Hold the cooked beet under cold running water until it's cool. Peel the skin. Slice the beet paper thin on a mandoline(a cheese slicer may work too). Dry the slices with paper towels and season on both sides with salt and pepper. Spread a small mounded strip of the tofu ricotta mixture on one end of each beet slice and roll up, using a dab of the ricotta mixture to hold the roll closed if needed.
Pour 2 inches of the oil into a large, heavy pot and heat to 375*F. Holding a roll together, dip in the tempura batter, coating completely, and carefully lower into the oil. Fry the rolls, a few at a time to avoid crowding the pot, until well browned and crisp, about 2 minutes.
Remove to a pan or plate lined with paper towels and set aside in a warm oven until all the rolls are fried.
Serve hot, drizzled with the Balsamic Gastrique.
To make the gastrique, in a small sauccepan over medium high heat, stir together the vinegar and sugar. Cook until syrupy and reduced by two thirds, about 15 minutes.