"These were created by the Exotic Epicureans for Zaar World Tour 03. A team of 9, we each picked one ingredient from 1 region of the US our the Southwest. Making an all American Burger using these ingredients. Kumquat the Cat's friend-lime that brings freshness, JanetC-KY-pepper jack cheese or Queso blanco a creaminess and richness, Alskann-Texas sweet onion made smoky, lucid501-beef just ask any Texan, Anme-corn for sweetness and lightens the burgers, free-free-avocado a rich creaminess, acerast-refried beans for health and to help hold the burger to the chips, Midwest Maven-tortilla chips and myself-chipotle peppers in adobo sauce for heat and smokiness. We stepped out of the box and went for these cute, spicy, smoky, sweet, mini-mini burgers that we placed on tortilla chips adhered with just a tad of refried beans topped with a tad of sour cream, tomato and avocado salsa and chipotle Caramelized onions. Oh as for the burgers they are filled with cheese, corn, chipolte peppers and cumin both give a great smokiness creating this Finger Licking Treats. You can use TVP (Texturized Vegetable Protein (TVP), also known as Textured Soy Protein (TSP) is a meat substitute made from defatted soy flour, a by-product of making soybean oil. It is quick to cook, high in protein, and low in fat.)in place of the beef! To rehydrate, 1 2/3 TVP add 1 1/3 cup boiling water. For the COOKING equivalent of 1 pound of hamburger meat, but equals 89 grams of protein or 12.7 protein blocks. By comparrison: 1 pound of hamburger has: 10.7 blocks in regular ground beef 11.2 block in lean ground beef 12 blocks of protein in extra lean ground beef"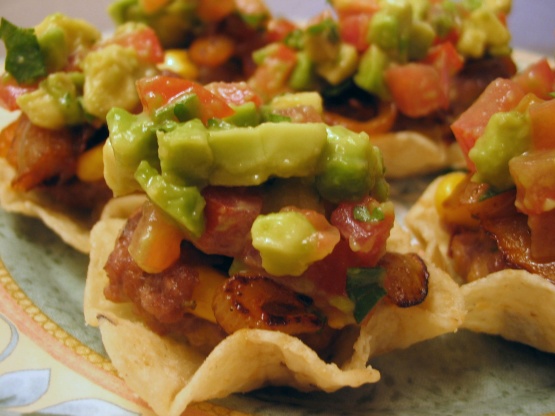 Tex-Mex Burgers Texotic-Mexotic Burgers
6 recipe photos
Directions
Caramelized Adobo Onions:
Heat the oil over medium high heat.
Add onions and reduce the heat to medium-low.
Cook slowly, stirring occasionally, until golden brown and caramelized, about 20 minutes.
Add the salt and pepper to taste, sugar and adobo sauce stir well to combine.
Meanwhile make Tomato and Avocado Salsa:
Add all ingredients from the salsa using 1/2 the cilantro and parsley and added the 1/8 cup finely mined onion. Chill till ready to serve.
TEXotic-MEXotic BURGERS:
Preheat oven to 375°F.
Mix all burger ingredients together including the remaining cilantro and parsley. Make burgers using 1 tablespoon full of meat mixture.
Place on a cookie sheet pan and bake for 5-10 minutes. Don`t overcook.
Meanwhile place chips on serving platter topping with just a tad of refried beans (used just to hold the mini burgers on).
Remove burgers from oven and place on beans be sure to get the cheese that oozed out (go ahead sneak some for yourself ;) ), topping with a tad of sour cream, Caramelized Adobo Onions, and salsa.
Enjoy these finger licking good burgers!
Alternate: Yes you can make regular sized burgers just bake a bit longer till desired doneness.
get the genius kitchen app.
Watch on your iPhone, iPad, Apple TV, Roku, or Fire TV.
Learn More