"Ready, Set, Cook! Special Edition Contest Entry: We had turkey tacos at the house one night with leftover filling. The next night was Polish night when it hit me. Mexico meets Poland. Who knew it was a perfect union?! Seriously, try these. They are so easy and SO GOOD! This includes our favorite dough recipe, but you can easily use pre-made pie dough and even wonton wrappers! There is also a dipping sauce recipe here that takes literally 1 minute to make and was surprisingly amazing! Hope you enjoy. =]"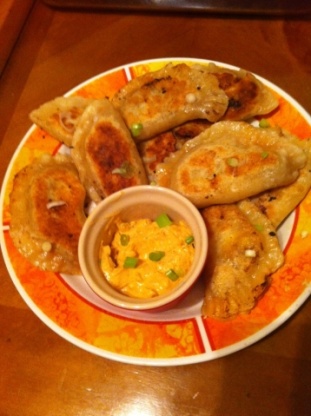 Tex-Mex Pierogies
1 recipe photo
Directions
First make the dough:
In a food processor, pulse the flower and salt together to break up any lumps there may be.
Add in the beaten egg and pulse 2 or 3 times.
Add the sour cream and butter and pulse until it looks like wet sand (about 5 or 6 times). It is important not to over mix into a lumpy ball.
Pour the sand on to your working counter or plate and bring it together into the shape of a ball. Try to handle it as little as possible.
Wrap it in plastic wrap and put it in the fridge while you make your filling. (20 min or more).
Filling:
Place your ground turkey into a HOT pan. Try to get most of the surface area covered. Let sit for a minute to brown and then start breaking apart the meat.
Add the chopped onions and stir. Sprinkle in the salt, paprika, cumin, and cayenne.
Once the onions have softened add the corn and chipotle peppers and stir.
Add the garlic and stir until fragrant. (about 1 minute).
Add the Adobo Sauce and stir.
Add 1/4 cup of the chicken stock and stir until almost all the liquid has been absorbed.
Add 1/4 cup of the chicken stock again. Stir until almost all the liquid has been absorbed.
Now add the rest (1/2 cup) of the chicken stock and stir until most of the liquid has cooked out and you're left with a thick "taco" filling.
Remove from pan and let cool.
In a separate bowl, mix the Simply Potatoes Mashed Potatoes and the cheese together. Set aside.
Assemble:
Take the dough out. You can use a rolling pin, but I didn't own one so I used a plate. Make 1" balls out of the dough and dust with flower. Roll or flatten them out to make about 3-4 inch rounds.
In the middle of the round, put a spoon full of your potato mixture followed by a spoonful of your taco filling.
Fold in half. A good trick is to gently shake up and down by the edges of the dough (like shaking water out of pasta in a colander) and press together at the top. Otherwise this could get super messy. make sure the edges are sealed tightly. You could use an egg wash here, but plain water worked fine for us.
Lay on a sheet pan that has been dusted with flour.
In a pot of boiling and salted water, drop 6-8 Pirogies at a time. cook for 8-10 minutes. They should be floating at the top when they are done.
Pull them out and let cool slightly.
Brush with melted butter on one side.
In a hot skillet, put pirogies butter side down to crisp up.
Butter the tops (since we only buttered one side).
Flip when brown and crisp up the other side.
For the Dipping Sauce.
In a bowl, mix up the sour cream, chopped green onion, and taco seasoning. THAT'S IT!
Serve on a platter with dipping sauce and sprinkle with more green onion for garnish. GREAT party food. Filling enough to be a meal.
get the genius kitchen app.
Watch on your iPhone, iPad, Apple TV, Roku, or Fire TV.
Learn More