"This is quite tasty and very different from the normal pizza. It's also healthy -- the nutritional info says that a piece has 250 calories, 7 g fat, 31 g carbs, and 17 g protein."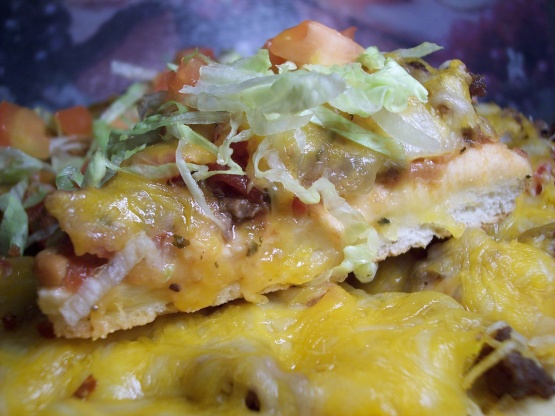 Tex Mex Pizza
2 recipe photos
Directions
Coat two 12-inch pizza pans with nonstick cooking spray and sprinkle with cornmeal.
Divide the bread dough in half and roll each portion into a 12-inch circle.
Transfer to prepared pans and build up edges slightly.
Prick dough thoroughly with a fork.
Bake at 425 degrees for 12 minutes or until slightly browned.
Meanwhile, in a skillet, cook the beef, onion, yellow pepper, and garlic over medium heat until the meat is no longer pink; drain.
Stir in refried beans, salsa, chilies, and chili powder; heat through.
Spread over the crusts; sprinkle with cheese.
Bake 6-7 minutes longer or until cheese is melted.
Top with tomatoes and lettuce; serve immediately.