"This dish is actually a "marriage" of 2 distinctly different RZ recipes. It was created as a variation of my Tex-Mex Spaghetti
Tex-Mex Spaghetti (Crock Pot Served)
, but was inspired by the spaghetti crust part of Bon in Michigan's Ham & Swiss Asparagus Pie
Ham and Swiss Asparagus Pie
. With her kind permission, I have borrowed & repeated the spaghetti crust portion of her recipe + prep instructions related to it (as they appear in her recipe). I also admit to being guided by other ingredient amts & parts of her recipe. Thank you so much Bon in Michigan! – The "heat level" of this dish is controlled by the picante sauce you use, but can be raised or lowered by adding spices to suit your preferences or using a mild picante sauce. For a family dinner or small dinner party, all you need to complete your meal is a guacamole salad & a flan or sopaipillas for dessert. Enjoy!"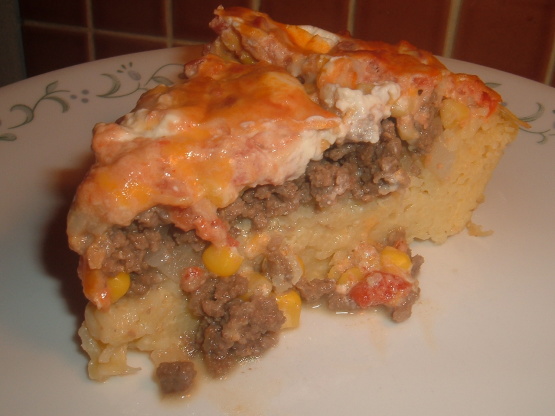 Tex-Mex Spaghetti Pie by Twissis & Bon in Michigan
4 recipe photos
Directions
Preheat oven to 350°F Grease 9-in deep-dish pie pan or 9-in square pan. Cook spaghetti to desired doneness as directed on pkg. Drain & rinse w/hot water.
In a lrg bowl, combine cooked spaghetti, Parmesan cheese, butter & 2 eggs. Toss lightly. Press evenly over bottom & up the sides of the greased pan to form the crust.
Sauté ground beef & onions together till the meat no longer shows any pink color & the onions are translucent. Drain of any rendered fat & scatter evenly over the crust.
Add drained mexicorn & drained black olives, scattering evenly over the crust.
In a medium-sized bowl, beat the eggs. Then add the 4 remaining ingredients (1 at a time) & mix well after each addition. Pour this mixture evenly over the ingredients already in the pie crust.
Bake at 350F for 35-45 minutes or till crust is golden brown & a knife inserted near the center comes out clean. Let pie cool for 15 minutes.
Cut pie in 6 equal wedges & garnish ea w/a tomato slice placed near the crust & a dollop of guacamole or sour cream atop the tomato slice (optional).