"I saw this at Food network and it look so good. And I was surprised it's not posted on zaar."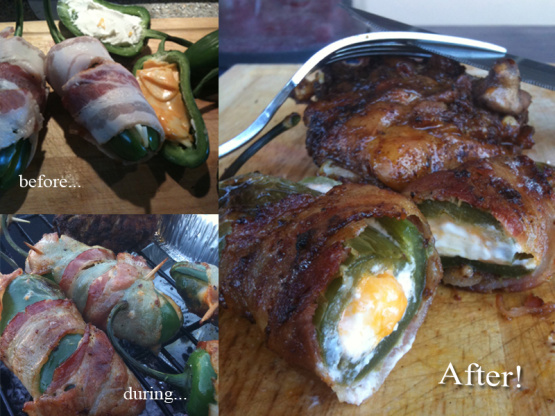 Texas Rockets (Jalapeno)
4 recipe photos
Directions
In a medium bowl combine the cheeses, cilantro, sundried tomatoes and corn kernels together.
Cut jalapeno peppers lengthwise down 1 side, leaving the other side intact (creating an open book); leave the top and stem on.
Using the handle of a spoon scrape the seeds and membranes out of the pepper. Note if you want extra spice leave some inches.
Spoon 2 tablespoons of the cheese mixture into the cavity of each pepper.
Wrap each pepper in bacon and secure it in place with a wooden toothpick.
Prepare your barbecue. Place a drip pan under barbeque grates to prevent flare ups.
Place a grill screen over the drip pan directly on top of the grill grate.
Preheat barbeque to medium heat 325°F (160°C).
Oil the grill grate to help prevent sticking.
Place the stuffed peppers onto the grill plate and cook with the lid up for 15-20 minutes or until the bacon is crispy. Turn the peppers frequently for even cooking.