"Massaman (or Masmun) curry paste, curry is by far the sweetest of all the curries, and is an excellent pairing with shrimp or chicken. A rich authentic flavor, usually with hints of tangy tamarind, this mildly hot curry is actually Indian/Maylasian-influenced, and is a popular favorite. A good introduction to curry if you are wary of trying something overly hot. Yellow curry paste is highly aromatic and brightly colored by turmeric and Indian-style curry powder; its spice level is relatively mild. The curry has a rich, bold taste, sweet with subtle hints of spices, and is effectively hot without being overpowering. Panang curry paste is similar to red but with. shares many of the same ingredients and is very similar in flavor to Red curry, save the addition of ground peanuts and a slightly sweeter taste, and is slightly less fiery on the tongue. Red curry pastes are made with bigger red chiles, still packing significant heat, but not quite so much as green pastes, while exploring a more savory side. Green curry paste gets its color mainly from fresh hot green chiles like serranos; they tend to be the hottest curry pastes. . Green curry tends to lean toward a sweeter flavor than red curry. Keep curry paste tightly wrapped and sealed for up to a month in the refrigerator, or up to three months in the freezer. MASSAMAN CURRY RECIPE By Thai standards it is a fairly mild curry, so if you are a newbie to Thai curries or do not favor spicy food, it is a good starting point. I have tweaked this dish to my liking so it has added peanut butter, cinnamon sticks, and Thai chilies. I also use Planters Cocktail Peanuts as I like the size and deep flavor of the peanuts; if you don't want the extra salt just rinse them."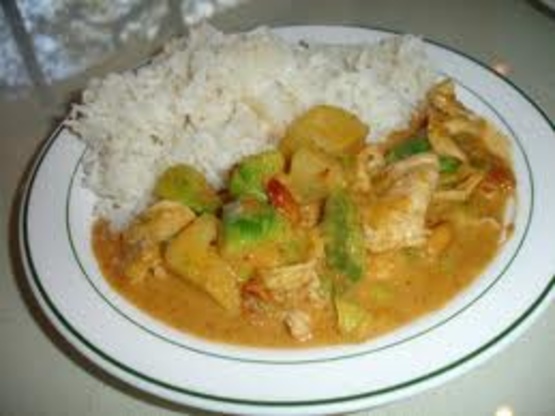 Thai Curries
1 recipe photo
Directions
Heat oil in a large sauté pan or wok. Add the chicken or beef and cook until brown on the outside. Remove from heat and place on paper towel.
Open can of coconut milk without shaking it. Put curry paste, onion, and chilies if using in the wok on medium heat, and add the thick cream from the top 1/3 of the coconut can. Let milk, onion, chilies and paste simmer until the paste releases its oil and the oil appears on top of the coconut milk.
Add meat and bring to a boil adding the remaining coconut milk. Then lower heat, add cinnamon sticks, cover, and let simmer until the meat is tender.
Add fish sauce, sugar, onions, potatoes, peanut butter, and limejuice.
Cover and cook on low heat for 15 to 20 minutes. Add peanuts.
Taste/add additional, fish sauce, sugar, or limejuice as needed. Remove from heat and sprinkle with fried sliced shallots. Serve with or over Jasmine Rice.
get the genius kitchen app.
Watch on your iPhone, iPad, Apple TV, Roku, or Fire TV.
Learn More