"Inspired by peacefulnightdove's lovely & yummy looking photo today of "Easy Beef Gyros" by mama's kitchen & because beef is so expensive here in Iceland, I went looking for the classic gyro using lamb cubes … only to find it hasn't been entered here on RZ. I decided to chg that & found this recipe at RecipeLand.com. Its simple title was "Greek Gyro", but it's way more than that – it's The Authentic Greek Gyro - "A Greek Grill Party" (even if served inside). It's clearly more work than hybrid versions & requires planning, but I bet it's well worth the effort … esp if you're able to get the real thick Greek yoghurt & eliminate prep step #3. (Time was given by the site & didn't include marination, but did include time to make the yoghurt which can be eliminated.) I hope you enjoy these!"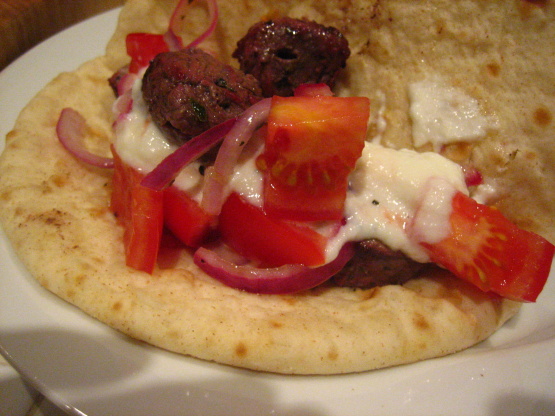 The Authentic Greek Gyro - "a Greek Grill Party"
1 recipe photo
Directions
The morning before an afternoon or evening BBQ, make marinade by combining oil, lemon juice, garlic cloves, herbs & pepper in a med bowl. Set aside about 1/4 cup of the marinade to mix w/the onions. Place cubed lamb in bowl w/remaining marinade & toss to coat well. Refrigerate lamb & marinade reserved for onions.
The morning of the BBQ, place onions in small bowl & toss w/reserved marinade. Cover w/plastic wrap, refrigerate several hrs & stir to mix well several times.
Make yoghurt sauce by lining a med bowl w/cheesecloth & spooning in the yoghurt. Tie up edges of cheesecloth w/string to form a pouch. Suspend over a bowl or place in a colander over a bowl & let stand to drain several hours. Moisture will drip from the yoghurt & give it a thick consistency. (Eliminate this step if able to get real thick Greek yoghurt.).
Mix yoghurt w/minced garlic, herbs, lemon juice, oil, salt & pepper. Cover & chill.
When ready to BBQ, stack pita bread in 2 piles of 6 & wrap each pile in foil (dull side out).
Heat coals or gas grill. Remove meat from marinade & reserve marinade for basting. (Discard any large garlic pieces.) Thread lamb onto greased skewers & grill over greased grill about 4 in from hot coals. Cook (turning & basting often) about 10 min or till lamb is brown on the outside, but still pink inside.
Warm pita rounds over barbecue.
Before serving, lift onions from the marinade w/a slotted spoon & place in a serving bowl. Cut whole tomatoes into thin wedges & place on a serving plate w/the lettuce leaves. Set out yoghurt sauce & lots of napkins (You'll need them!).
To serve, cut each warmed pita round in half & separate to form 2 pockets. Each person fills a warmed pita picket with some of the grilled lamb cubes, lettuce, tomatoes & onions, then tops with a spoonful of the sauce.