"This is the tastiest Guacamole. Simple, yet delicious. I was told that this recipe lets the avacado taste shine, some recipes add several spices....cumin, chili powder, etc. I was hesitant, (to make such a bland sounding recipe) but gave it a try. It really is delicious. Use avacados that yield to gentle pressure....not too soft."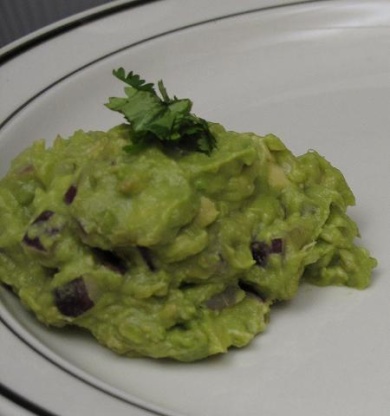 The Best Ever Guacamole
1 recipe photo
Directions
Mince garlic, dice onions (use more if necessary). Cut avacados and scoop out contents into glass bowl. Add onion and garlic. Using 2 knives cross-cut mixture until you have small chunks, then mash with a fork. Squeese in 1/2 the lime, white pepper and salt. Taste, and use remaining lime juice if needed. Chill covered.
Garnish for serving with a few pieces of cilantro and small dices of tomato.
Serve with tortilla chips or as a side with Mexican dishes.