"I have tried no less than 5 different recipes and several variations of Raisin Bread recipes before finding what I think is the best tasting recipe. It is a culmination of trail and error using various recipes found on the internet and in Bread Machine Cookbooks. This recipe makes approximately a 1.5lb (750gm) loaf."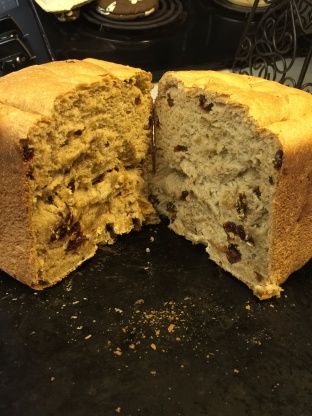 The Best Raisin Bread for Bread Maker / Machine
2 recipe photos
Directions
Firstly, mix the flour, milk powder, sugar, salt and cinnamon together thoroughly in a mixing bowl making sure there are no lumps.
Now add the luke warm water and butter into the bread machine. (I divide the butter into four pieces and put one in each corner of the pan for easier mixing).
Then add the dry mixed ingredients into the pan. Make a small well in the centre of the dry mixture and add the yeast.
Set the Bread Maker / Machine to 'Sweet Bread' setting and wait for it to 'BEEP' (approx 15 minutes) before adding the raisins.
Wait until cooked and enjoy fresh or toasted with butter -- YUM !
** If the mixture is too dry while mixing you can add a tablespoon of water. Alternatively if its too moist, a tablespoon of flour should sort it out nicely. **.