"I don't know about you, but I'm so frustrated with salsa in a jar. We were so surprised to find out our favorite restaurant salsa contained only 4 ingredients!! My husband and I have tried every type there is - from big brand names to local brands. We have been searching for a salsa that tastes like what we get at our favorite local mexican restaurants. In the past, I've tried making my own but it hasn't been any better than store bought. Now I've found it though. One of our local restaurants posted their recipe on the wall...though it was for a 6 pound can of tomatos. So I've had to guess at amounts, but it turns out yummy everytime. ADDICTING!! And best of all it's only 4 ingredients!!!"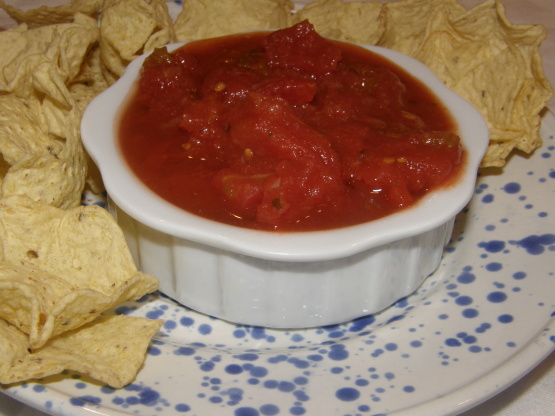 The Best Restaurant Salsa Made at Home
1 recipe photo
28

ounces crushed tomatoes

1 -2

teaspoon pickled jalapeno pepper (more if you like it really hot!!)

1⁄2 teaspoon salt (actually 1/4 to 1/2 teaspoon of salt to taste. NOTE, I use kosher salt for this, adjust to whatever )
1⁄4-1⁄2 teaspoon garlic powder, again to taste. I love garlic so I probably use more
Directions
Basically, you just stir up the ingredients and you got it, but since the original recipe called for a 6 pound can of tomatoes I'm really just estimating what I've done to make it a smaller batch.
I take the pickled jalapeños (which at my store comes as jalapeño rings) and I chop them up fine in my mini processor. Once chopped up fine, I add what I'm estimating as 1 to 2 teaspoons of jalapeños. For those of you who don't measure like me, it seems to be about 6 or 7 medium sized rings from the jar. However, I'm sure size differs from brand to brand. I also like to add a little bit of the juice from the jar, b/c I think that's what helps give it that restaurant flavor. Just a few dribbles.
My suggestion is to go light on the jalapeños for your first try. Don't trust the first taste of the salsa -- wait until the next day and taste it. It gets hotter after it has had time to sit. So if the next day it isn't hot enough for you, add more chopped jalapeños or just add a little of the jalapeño juice from the jar.
When it comes to salt be careful not to over salt -- though I've found if I go too light then it doesn't taste right (taste more like store bought). So again, go light and then add small amounts till it tastes right. Same thing with the garlic powder.
Remember you can always add but ya can't take out. Course, my first batch was so hot that I had to add another 28 oz can of crushed tomatoes before we could eat it (I think that was about 2 tablespoons of jalapeños and some of the juice!).
The key to it is to be flexible, be willing to try different amounts till it tastes like you want. Have fun with it!
get the genius kitchen app.
Watch on your iPhone, iPad, Apple TV, Roku, or Fire TV.
Learn More