"I just tossed this together this morning... ohhh, it came out so yummy! The cooking time for this is weird: you prep as you go for this since you are using fresh veggies.... I didn't chop or grate or anything until I used it...I just grabbed as I went and it came out delicious!"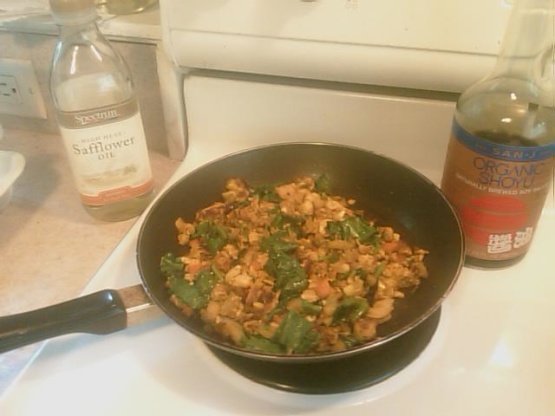 The Best Summer Time Tofu Scramble - Vegan
1 recipe photo
READY IN:

1hr

SERVES:

2

UNITS:

US
Directions
heat oil in pan with onion(I reconstituted organic dry minced), salt and pepper over medium heat.
While heating, chop up zucchini and squash, toss in pan with onioin and S & P mix.
Cut the 1/2 carrot in half, shred one part and chop the other, toss in pan.
Stir a little to make sure nothing is sticking.
In ICE COLD water liven up your spinach -- if it's wilted a bit, don't worry (mine was wilted too), it will become crisp in ICE COLD water, not to mention clean it up too!
Grab your garlic clove and grate it into the pan -- go ahead toss the end in there too!
Grab that piece of sun-dried tomato, put it in a cup of water and micro it for about 30-45 secs -- make it easier to cut and --
At this time use some, just a bit, of water from softening the tomato to loosen up your pan -- adds great flavor and your not wasting perfectly good water!
Chop up tomato and toss that in the pan too.
Have your Tofu pressed of water and ready. Crumble up the tofu and put in the center of pan.
Add Nutritional Yeast (I used about 2 1/2 tbsp -- I like the cheesy texture).
Let sit for about 3-5 min, then stir up for Nut. yeast to mix in really good.
Add 1-3 tsp of Shoyu sauce.
Continue to cook for about 5 minute.
Run your knife into spinach for a coarse chop, if you want the stems in that is fine (I left a few in myself).
Put the spinach in on top of everything and cover for 2-5 minutes -- it will steam it a bit -- you will be surprised how crisp it stays after having ICED it.
Stir up just prior to serving.
Enjoy!