"My husband LOVES deviled eggs, but he's pretty picky about them too. The best way that I can describe these, is that it took me a lot of trial and error before I finally got them right. If you want more, don't double the recipe (its already doubled, and if you double it again, they just don't turn out right...TRUST ME!!) just make the batch twice. Just go ahead and boil all the eggs at once, and mix the ingredients twice. Enjoy"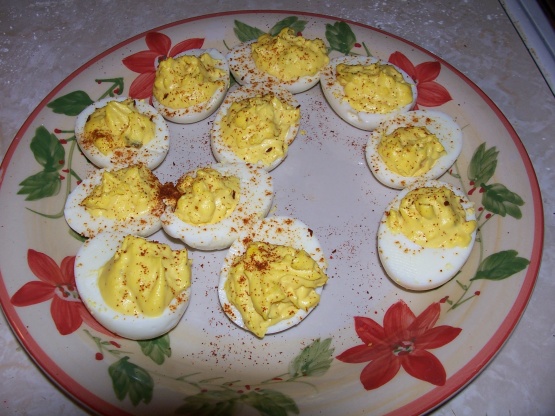 The Bestest Deviled Eggs Ever!!
1 recipe photo
Directions
boil the eggs -- place eggs in enough cold water to cover completely. Bring to a rolling boil over high heat. Reduce heat to a lower medium boil and cook an additional 12 minutes.
Promptly chill the eggs so that the yolks stay a bright yellow.
While the eggs are cooling -- in a medium mixing bowl combine the mayo, Splenda, mustard vinegar, relish and salt and pepper.
Once the eggs are cool, slice them lengthwise, placing the yolks in the bowl with the other ingredients.
Place the white halves in a deviled egg dish or serving tray.
Mash the yolks, then blend with the other ingredients with a mixer on a medium speed until mostly smooth.
Spoon the yolk mixture into the egg white halves. (I use disposable cake icing bags, with no tip in the bag or a large star tip to make them 'pretty').
Garnish the eggs with a light dusting of paprika with the parsley sprigs on the tray around the whites.You may also garnish the top of the eggs with olive slices too.