"Slightly revised from the Door County Cherry Scones from The Bistro at Liberty Square in Egg Harbor (wherever that is ...), original recipe is posted at: http://www.jsonline.com/features/food/40228777.html. These scones are magnificent!"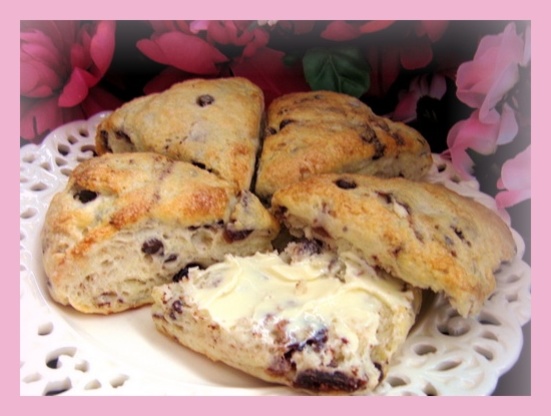 The Bistro's Cherry Scones
1 recipe photo
Directions
Preheat oven to 375 degrees.
In medium bowl, whisk together the flour, sugar, baking powder, baking soda and salt.
Cut butter into flour mixture until mixture resembles a coarse meal.
Add cherries and chips and mix well.
Make a well in center of mixture and pour in yogurt (or buttermilk).
Mix ingredients into a soft, slightly wet dough.
Cut dough in half.
Take half of dough and turn dough out onto lightly floured work surface. Shape into a ball and roll to a circle roughly 1/2 - 3/4 inch thick.
Cut into 8 wedges. Place each wedge onto a cookie sheet sprayed with cooking spray.
Repeat with other half of dough.
Sprinkle wedges with turbinado sugar.
Bake at 375 for about 20 minutes or until golden brown.