"These smart little shrimp marry with the cannelloni bean to produce a delicate, but simply the most tummy pleasant quick pick me up you might ever want. As the North wind starts biting into us during the winter, I just pop this little dandy into a pot and saute' together. Delightfully fun to bubble away in your pot, adding each layers, and building on a power taste that gives you incline to sip right off the wooden spoon. I use fresh basil, which, melts down to a nice mixture, coupling with the warmed tomatoes, chilies, and lemon bring the dish right around the mountain top. This will give you some kick in your step, a whistle in you whistle, and make the dogs come home. Enjoy with a warm glass of Apple Cider and you will have a marriage made in heaven too."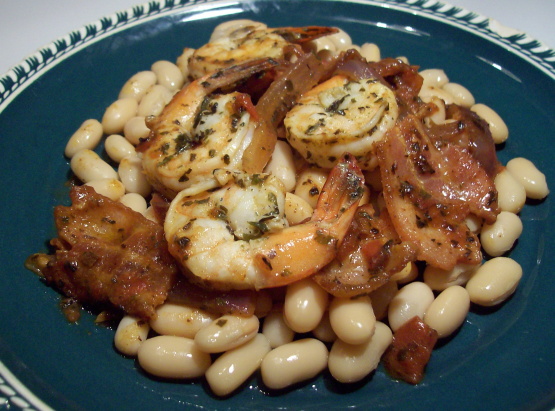 The Cannellini Bean Marries the Pink Shrimp - Longmeadow Farm
2 recipe photos
READY IN:

45mins

SERVES:

4

UNITS:

US
Shrimp marinade

1

garlic clove, minced

2

teaspoons dried basil

2

teaspoons dried parsley

2

teaspoons dried thyme

1

teaspoon ground black pepper, course

3

tablespoons olive oil

1

lemon, juice of

The Shrimp

24

raw shrimp, peeled and deveined

The beans

2

cups canned cannelloni white beans

2

tablespoons olive oil

The Tomato Basil Mixture

3

slices pancetta (or bacon)

1

tablespoon oil (as needed)

1

small onion, chopped

1

garlic clove, minced
1⁄4 teaspoon oregano, dried
1⁄8 teaspoon thyme, dried
1⁄2 teaspoon salt (to taste)
1⁄8 teaspoon pepper (to taste)

1

small serrano chilies, thinly sliced (optional) or 1 small jalapeno (optional)
1⁄2 teaspoon red pepper flakes, crushed

1

cup fresh tomato, peeled, seeded and diced (canned or fresh)

1

cup fresh basil leaf (lightly put in cup measure, not packed (or 1 teaspoon dried)

1

tablespoon lemon juice

salt & freshly ground black pepper

Garnish

2

tablespoons flat-leaf Italian parsley, chopped
extra virgin olive oil, for drizzling (Best-quality)
Directions
Place shrimp in marinade mixture, let sit for 10 minutes at least, or as long as an hour. Drain the beans over a bowl and reserve the liquid. Put the white beans in a large skillet with just enough of their liquid to moisten them. Add 2 tablespoons of the olive oil and bring the beans to a low simmer. Keep them warm while you prepare the shrimp.
Heat 1 tablespoon of oil in a large skillet over high heat. Add the shrimp, season with salt and cook for about 1 minute, tossing frequently. Remove the shrimp with tongs to a bowl.
In the same large skillet fry the pancetta until some of the fat is rendered. Remove pancetta, set aside. Add olive oil measuring up to 1 tablespoon in pan adding onion, cooking for 3 minutes, until translucent. Add garlic clove and cook for 20 seconds on medium heat.
Add seasoning ingredients, including pancetta.
Add the Serrano Chile or chili flakes and cook for 1 minute. Add the tomato and basil and stir briefly, then add the lemon juice. Season with salt and pepper. Cook for about 5 minutes, (the tomatoes will be warmed, the basil and seasonings will be married together).
Stir in the shrimp.
Toss well and cook briefly to reheat the shrimp. Remove the shrimp mixture to a plate and sprinkle with parsley.
Spoon the white beans on a platter or individual plates. Drizzle them with the best olive oil you have, and then top with the shrimp/tomato mixture (you use as much as you want.
Some people just take the shrimp out of the tomato mixture and sit them proudly on top of the beans, or some people like to float the beans, shrimp, and tomato mixture in a bowl.
You decide, but devour piping hot!
Oh yes, and let those dogs inside, they will be wanting to lick your plate clean.