"The minute I saw this on Foot network I said I gotta try this! Gotten off the Farm Cafe's(Portland, Oregon) website after seeing it on The Best Thing I Ever Ate. It's different from the other recipe posted here. Enjoy! Thanks Duff for pointing this recipe out for us! One of the commenters on the site said they used feta instead of cheddar and another goat cheese, so don't be afraid to experiment! I also like to roast the eggplant instead of sauteeing. To freeze, wrap in wax paper, then plastic wrap, then store in plastic container. To use, thaw overnight in refrigerator, and cook as directed. One commenter said she replaced the eggplant with mushooms and another replaced with summer squash."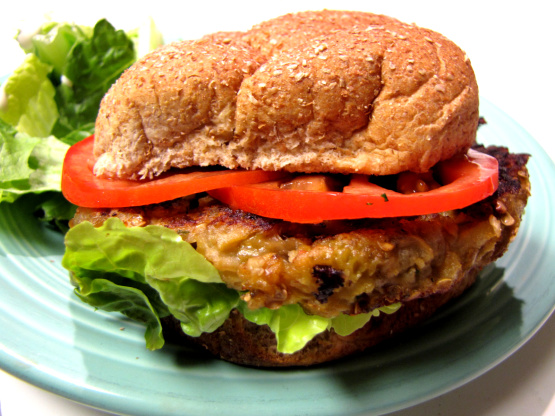 The Farm Cafe's Farmhouse Veggie Burger
1 recipe photo
2

whole eggplants, peeled, diced into 1-inch cubes (about 1 pound each, you can leave peel on)

1

tablespoon butter (or margarine)

2 -3

scallions, chopped fine

1

tablespoon parsley, miniced (also good with cilantro)

1

cup shredded cheddar cheese (medium reccomended-can use goat cheese or feta)

1

cup breadcrumbs (one reviewer used gluten free cracker crumbs)

3⁄4 teaspoon fresh ground black pepper

1

teaspoon garlic, minced
1⁄4 teaspoon salt

3

tablespoons olive oil
Directions
Sauté eggplant in 1 tbls. butter on low heat until very soft, about 15 minutes. I actually ended up adding a touch more butter so they wouldn't stick.
Mix together eggplant and all the rest of the ingredients, except oil, let rest for ½ hour in refrigerator (or alternately, place the eggplant, mixed with 1-2 tbls. olive oil, on a baking sheet and roast about 15-20 minutes on 400*F. or till soft. Then mix with rest of ingredients-except oil- and continue with directions given).
Form into 4-6 equal patties about an inch thickThe amount of patties will depend on the size of the eggplants).
In a sauté pan, heat olive oil until hot, then fry patties till dark brown, about 5 minutes each side.
Serve on whole grain sandwich buns with caramelized onions, spicy brown mustard, roasted red peppers and mix of baby salad greens(or spinach). Enjoy!
Note:.
I halved the recipe using a 1 pound eggplant and came out with 3 nice size patties. I did use 1 scallion and a handful of chives. I used just a little more cheese than called for(I used a mixture of cheddar and jack). Yummy!