"Jam tarts are a quintessential British teatime treat - little crispy short crust pastry rounds filled with assorted fruit jams, such as strawberry, raspberry, apricot, blackcurrant and lemon curd. They were the first things my mum taught me to bake when I was little, and in turn, I taught my daughter how to make them when she was very small. Here I have suggested that as a Valentine's Day treat, you top the jam tarts with a little pastry heart........after all, the way to a loved one's heart is through their stomach! Jam Tarts normally do NOT have any pastry topping however, so for the rest of the year, just make them as posted with no pastry lid, or use other suitable shapes appropriate for a special event. I have posted homemade short crust pastry, it is so easy to make and is far superior to ready-made, although I DO use ready-made when I am short of time! Try to use good quality or homemade jams and jellies, the higher the fruit content, the less the jam or jelly will bubble out of the pastry case. These are essential for any English Tea Party, especially if Alice in Wonderland has been invited............along with the white rabbit! Have fun!"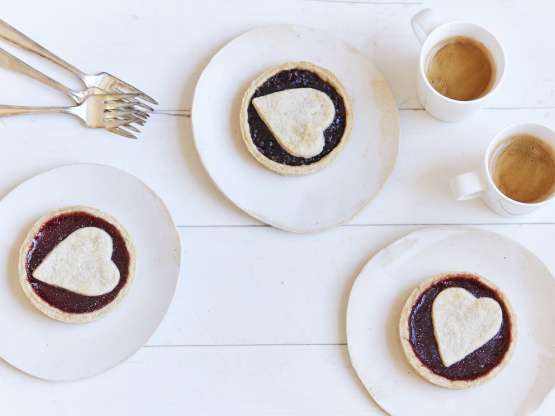 The Queen of Hearts - Valentine's Jam Tarts
18 recipe photos
Directions
Sieve the flour into a large mixing bowl, add the butter and rub it in using your fingertips until the mixture looks like fine breadcrumbs.
Use a knife to mix in the water, a little at a time stirring with the knife until the mixture comes together and you can form a ball with your hands.
Wrap the pastry in a piece of clingfilm and put it in the fridge for 30 minutes – this will make it easier to roll out.
Turn the oven on to 200°C/400°F/Gas Mark 6.
Sprinkle the work surface and your rolling pin with a little flour and roll the pastry out to about ¼ cm thick.
Dip the cutter in flour then cut out as many circles as you can – you may need to gather the bits of pastry up and roll them out again to make 12 to 18 circles.(Make sure you leave a little of the pastry scraps for the heart shaped pastry lids!) Once you have the desired amount of pastry cases, roll out the pastry scraps and cut out the required amount of hearts, using a mini heart shaped biscuit/cookie cutter.
Lay the rounds of pastry in the tart tin, which has been buttered or greased and press them gently into place. Prick the base of each tart once with a fork.
Put the tart tray into the oven and bake for 6 minutes until the pastry is very pale golden. Using oven gloves take the tray out of the oven.
Carefully put 1 heaped teaspoon of jam into each tart, and then top them off with a pastry heart. Using oven gloves put the tray back into the oven for 6 minutes.
Using your oven gloves take the tray out of the oven.
Leave them to cool for a few minutes then use a palette knife to gently lift the tarts out of the tin and leave to cool completely on a wire rack. Arrange them on an attractive serving plate and sprinkle with caster sugar.
get the genius kitchen app.
Watch on your iPhone, iPad, Apple TV, Roku, or Fire TV.
Learn More