"After reading Barbara Kingsolver's "Animal, Vegetable, Miracle," I began thinking more about how far my food (and all its ingredients!) had traveled to get to me. I worked out this energy-bar-like recipe as a way to use up the home-grown pecans that my folks in Texas keep mailing me (I'm not complaining!). It has the added benefit of being made with few ingredients, which can be substituted for locally-grown things, or things which are currently in season. I use things native to my home state of California-- feel free to adjust and play with some of your own local flavors! Added bonus-- no flour or dairy!"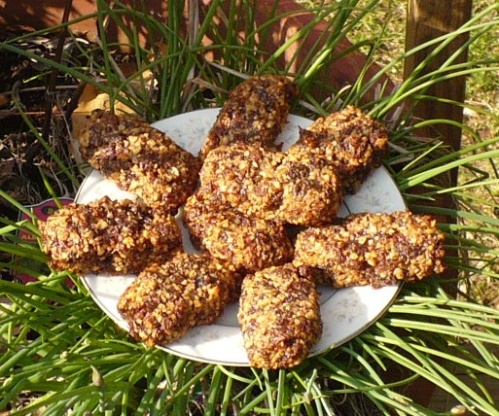 The " Who Needs Clif Bars?" Bar
1 recipe photo
Directions
Preheat the oven to 350°F
Grind the pecans into a flour-like powder using a food processor. Pour into a medium bowl and set aside.
Process the dried fruit in the same way, in the food processor-- make sure the pieces are good and small. This might take awhile. If using dried apricots instead, it might help to slice them in half before adding them to the food processor. When finished, add to the bowl with the pecan 'flour'. Add cinnamon and orange zest to taste.
Add the egg to the mix, and work it into the pecans and raisins with your hands. You want the mixture to be drier than cookie dough usually is-- just barely holding together. The stickiness of the dried fruit will help the mixture stay in clumps.
Spray a cookie sheet with non-stick spray, or use butter. Shape your bars out of the mixture-- I usually aim for bars which are about 2 x 4 inches x 3/8-inch thick.
Bake for about 15 minutes, though watch the edges of the bars-- they can get toasty. When the center of each bar is somewhat firm to the touch, remove from the oven and place on a rack to cool.