"I make these for Christmas and other special holidays. It seems like there are a lot of steps but this is actually a super easy recipe. These yummy cookies bring a smile to everyone's face. I usually sprinkle them with multi-colored sprinkles while the chocolate is still wet for a little extra color. If you don't want to make your own marshmallows, you can just use a bag of ready made marshmallows in white or fun assorted colors. That's what I do sometimes. You can use whatever flavor of chocolate that you like. Semi-sweet will give a more authentic flavor but I like milk chocolate and my daughter likes dark chocolate. Using high quality chocolate will take these to a whole new level. Whatever you use, they'll be great. You can even use white chocolate if you like. Note: chilling time for the dough is not included in the prep time given so be sure to allow enough time for chilling."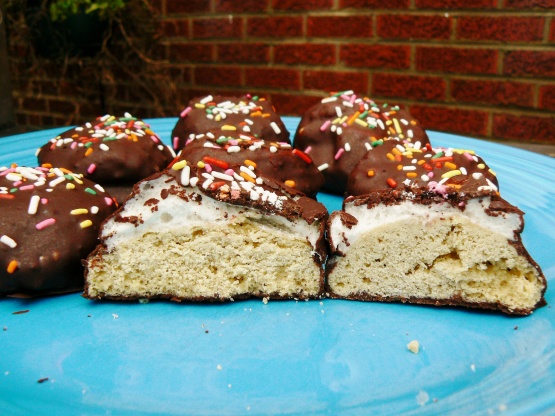 The Realtor's Homemade Mallowmars- Copycat Recipe
3 recipe photos
Directions
To make the dough:
Place all of the dry ingredients into a mixer bowl and mix together with the paddle attachment.
Add butter, mix on low speed until coarse crumbs form.
Add eggs, mix to combine.
Carefully form dough into a disk shape between 2 sheets of plastic wrap. I squash it out pretty flat at this point so there will be less rolling out later on.
Refrigerate at least 2 hours or up to a couple of days.
To bake, pre-heat the oven to 375 degrees F and.
line a cookie sheet with parchment paper.
On a lightly floured surface, roll out the dough to 1/8 to 1/4-inch thickness.
Use round biscuit cutter to cut out small circless of dough about 1 1/2 inches across.
Transfer to the prepared pan and bake until light golden brown, about 10 minutes.
*Note: These cookies don't really spread so you can put them close together- 24 to a sheet.
Let cool to room temperature.
If using the homemade marshmallows, make them now and pipe a small kiss of marshmallow onto each cookie. If not, just move on to the next step.
Let set at room temperature for 2 hours.
To make the marshmallows:
Combine the water, corn syrup, and sugar in a saucepan, bring to a boil until soft-ball stage, or 235 degrees on a candy thermometer.
Meanwhile, sprinkle the gelatin over the cold water and let dissolve.
Remove the syrup from the heat, add the gelatin, and mix.
Whip the egg whites until soft peaks form and slowly pour the syrup into the whites with the mixer running the whole time. Add the vanilla and continue whipping until stiff. Transfer the marshmallow to a pastry bag. This is a messy pain but it's so worth it.
If you're using store bought marshmallows, place one on each cookie base.
Carefully, heat them marshmallow topped cookies in a preheated 350-degree oven to slump the marshmallow slightly, it will expand and brown a little. Watch them closely because some of the marshmallows may try to fall off the side and you have to quickly push them back up on top.
Let cool completely, then dip into the chocolate glaze.
To dip the cookies in the chocolate glaze:
Line a cookie sheet with parchment. The parchment will allow you to peel the cookies off easily when the chocolate dries.
Melt the 2 ingredients together in the top of a double boiler or a bowl set over barely simmering water.
Gently drop the marshmallow-topped cookies into the hot chocolate, one at a time. I just plop them in (marshmallow down), push them over with a fork (marshmallow up now) and lift them out with a fork. Let excess chocolate drip back into the bowl.
Place on the prepared cookie sheet and let set at room temperature until the coating is firm, about 1 to 2 hours. You can refrigerate them if you want them fast and they will be ready in 20 minutes.
get the genius kitchen app.
Watch on your iPhone, iPad, Apple TV, Roku, or Fire TV.
Learn More