"I could not believe nobody had posted this recipe for caramels. It is SO easy and SO rich and turns out perfect for me every time. I hope that you have as much success as I do. I also use this for my caramel apples. My mom says that nobody's got anything on my caramel apples, even the people who make them at the fair. I am posting prep time as an hour total because I am posting the methods for candy and apples."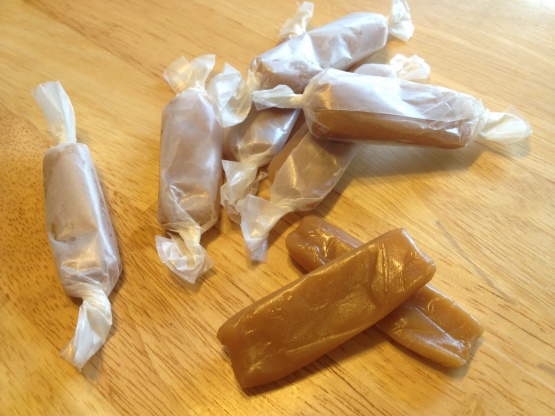 The Redneck's Best Caramels
1 recipe photo
Directions
Butter a square pan and line it with foil. Butter the foil as well.
Combine ingredients in a heavy pan except vanilla. Cook over medium heat, stirring constantly until mixture reaches 248 degrees on a candy thermometer.
Remove from heat and stir in vanilla. Pour into the pan and set on a wire rack. Cool completely. Turn out and cut into squares and wrap in waxed paper.
For caramel apples: Wash and dry apples completely (air dry is best) and stick the sticks into the BOTTOM of the apples. They will sit better if you stick them from the bottom instead of the top. Make the caramel and dip the apples and sit them on buttered waxed paper. I tried parchment paper and it didn't work as well as I'd hoped. I always eat any excess caramel with a spoon~a yummy treat for the hard-working chef!