"This is one of my own burger recipes; I made this up one evening when we both fancied a burger, but we also wanted one with a bit of a kick, plus I needed to use up some pork sausage meat! It is such an easy recipe and yet it delivers on taste - PLEASE adjust the heat to your own requirements; it is also a very BIG burger, hence the name! Serve this burger in a standard burger bun, maybe in a ciabatta roll, or with flat breads. A side salad and baked jacket potato would also fit the bill if you are very hungry. I am very proud to say that one of my photos of this burger came first in the Bring on the Burgers Photo Competition. The photo was called Blinded by the Light, and the photo taken indoors with the strong back light. I won a Recipezaar apron, which I now wear all the time whilst I grill and barbeque! NB: You MUST use high quality, high meat content sausage meat or sausages for these burgers; the cheaper high fat content ones, will JUST not work at all!"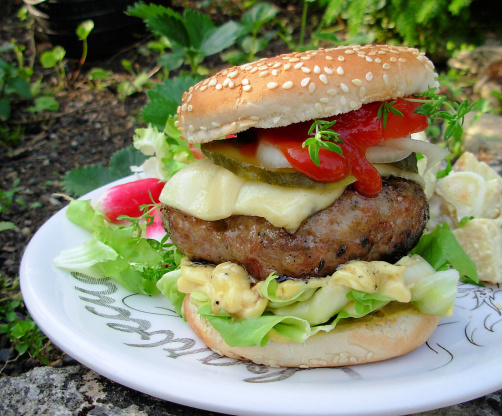 The Towering Inferno! Chilli, Coconut and Coriander Pork Burger
4 recipe photos
Directions
If your coconut cream is very hard, soften it in the microwave for about 10 seconds - or leave it in a warm place until it is malleable.
Put the sausage meat or skinned sausages in to a large bowl and add the all the remaining burger ingredients.
Mix it all together with your hands, making sure that all the seasonings and herbs have been distributed throughout the burger mix.
Shape in to 4 burgers/patties and chill them in the fridge for about 30 minutes to 1 hour to firm up.
Meanwhile, make the mayonnaise sauce: mix all the seasonings and herbs into the mayonnaise - set to one side in the fridge until needed.
Heat the barbecue or grill and brush the pan or rack with a little oil to prevent the burgers sticking. Cook the burgers for about 5 minutes on each side or until the juices run clear when you pierce the centre. Serve on toasted burger buns with the lime and garlic mayonnaise and your choice of accompaniments.
Take a photo and have a glass of wine or beer! Cheers!