Want more from Genius Kitchen?
Watch on your Apple TV, Roku, or Fire TV and your iOS, Fire, or Android device.
Learn More
"This is that magical white garlic sauce served all over the Middle East in one form or another. Thousands of my felow ex-expats know it as it comes with wonderful Saudi broasted chicken (like Al-Baik). In some countries this sauce is almost mayonaissey, and in others it is a more flow-ey sauce. I like the stiff version, but it is more time consuming as it's harder to blend. Edit: This recipe is stiffer, but flavor authentic to what I had in KSA. If you don't like so much garlic, use less. There are all sizes of garlic heads (made me feel kinda bad that Jennifer B felt so betrayed). Like any recipe, adjust to your own tastes. If you don't know the strength of raw garlic - bite into a piece! And taste as you go like you would do with any dish. I never believed a recipe should be followed blindly - I'm too picky. Bon Appetite!"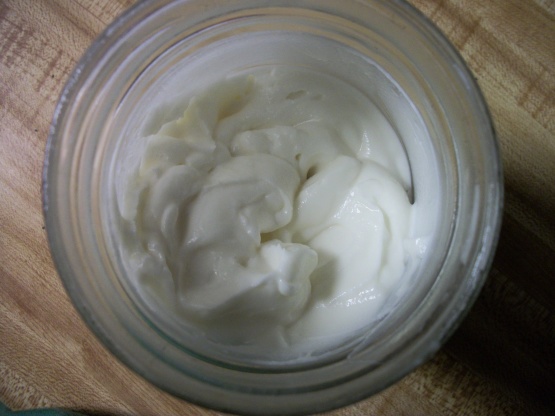 Thoom - Arabic Garlic Sauce
2 recipe photos
Directions
Use a blender as the well on a food processor is too big for this. Try a wand blender, I havent, but if you have a strong one, I bet it's just the ticket.
Drop into the blender: cleaned garlic, egg-white and a few teaspoons oil. Blend and add remaining oil by the teaspoon whilst continually blending. Expect to spend a little time now, dribbling in the canola oil (don't break the sauce!).
You are creating an emulsion, like mayonnaise. At first it will look runny, but keep dripping the oil in gradually, and it will begin to thicken when about 1/3 - 1/2 cup is blended. Make it as stiff or as relaxed as you like, but if you add oil or lemon too much at a time, it will separate into plain oil & puree'd garlic, not an emulsion.
If the emulsion is too thick to blend, dilute it with the lemon-juice and later w/ water (when you have the level of flavor you want from the lemon but you want to thin the sauce). Conversely, thicken it by adding more oil -- I have scared myself w/ an emulsion that was very fluid till I realized I had added too much lemon juice. So, more garlic, more oil, more blending and voila, problem solved.
I like to keep this quite stiff as I use it like mayo, but it's harder to blend that way: it gets so thick you have to use a spatula to knock down the top so it will keep blending.
When most of the oil is emulsified, salt to taste.
I have seen Americanized versions of this sauce calling for everything from yogurt to mashed potatoes(!) You not need a dairy product in this. Or potatoes, lol!
Made this way, this will keep a long time, like mayo (the egg is optional). If it's too garlicky for you, add another 1/2 C oil like you did the first cup. This is the real deal, promise!
get the genius kitchen app.
Watch on your iPhone, iPad, Apple TV, Android, Roku, or Fire TV.
Learn More