"My first really good loaf of bread was from a BakinBaby roll recipe that used beer. This recipe has several differences in ingredient ratios and a pre-ferment or sponge (non-sourdough) is used to mellow the flavor. You can substitue water for the beer if desired with good results."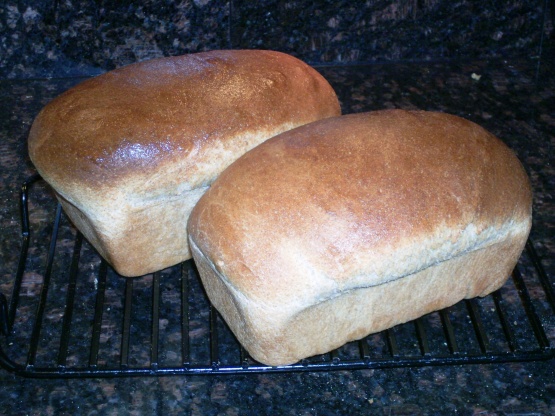 To Beer or Not to Beer - Wheat Bread (Hand or Abm Dough Cycle)
2 recipe photos
Directions
In a medium bowl (or in the bread machine) place the water, honey and beer and add the yeast.
Mix well with wooden spoon or using the dough cycle and let sit for 10 minutes (turn off the bread machine for 10 minutes).
Add flour and mix well (can use bread machine, starting it over on the dough cycle).
Cover and let it sit for 1 to 4 hours (unplug bread machine and close the lid).
To make the dough, stir the yeast into the starter and let sit for 10 minutes.
Add the rest of the ingredients and mix well (or start the machine on dough cycle).
If making it by hand, dump onto a floured surface and knead briefly for a couple of minutes. Cover and let sit for 20 minutes.
Knead for 5 minutes until smooth either by hand or machine on dough cycle.
Remove dough and place in a oiled, clean bowl and cover with plastic wrap or cotten towel. A straight sided clear container is even better. If using machine, let rise with machine off and lid down. Let sit at room temp or slightly above until double in volume.
Remove and stretch and fold until degassed. By stretching or dimpling or rolling, form a rectangle with short side the length of the loaf pan. Roll up from the short side, sealing as you go using your thumbs.
Oil or spray 9 x 5 pan and place dough into it. Cover with oiled wrap.
Let rise until doubled or about 1 inch above the pan edges.
Bake at 350F until 200F to 210F internally (about 40 minutes for my oven).
Turn out onto wire rack and cool until warm before slicing.
get the genius kitchen app.
Watch on your iPhone, iPad, Apple TV, Roku, or Fire TV.
Learn More