"Another Bero recipe popular in my family. This is usually served as one very filling portion for one person, but can easily be two or three if you add side dishes. I usually have about 1/3 to 1/2 a cup of batter left over to make a few pancakes the next morning."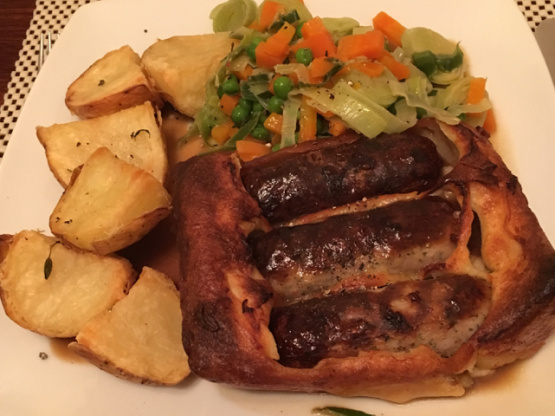 Toad in the Hole
4 recipe photos
Directions
In a blender or food processor mix the milk eggs and salt. Add the flour in small amounts and mix each time to avoid lumps. The consistency should be about equal to single cream.
Using a bit of sunflower oil or the like make sure the inside of your roasting tray is well coated. (I usually use about a 10x6 With rounded corners)
Place the sausages in the tray and place in the oven at 220C (200 fan assisted) Cook for ten minutes.
Remove the tray and turn the sausages over. Pour the batter around and between the sauages. You want it fairly level and the depth to be about half-way up the sausages.
Return to the oven for 15 minutes. The reduce the heat to 200C (180C Fan assisted) for another 20 minutes. Don't open the door until they are finished if you can help it.
Any left over batter can be saved in the fridge and used for pancakes. If the batter seperates you can just stir it with a spoon.