"I walked into my MIL's house one evening and was overcome with the heady scent of tomatoes, herbs, and cheeses. She was making lasagna, and this is the recipe she uses. Very tasty stuff. If you want to make this veggie-friendly, omit the bone and use salt and pepper as desired. Serve with a fresh green salad, crusty bread, and of course a lovely little glass of red. Prep time includes making the sauce, and I would also highly recommend using the pre-cooked lasagna noodles."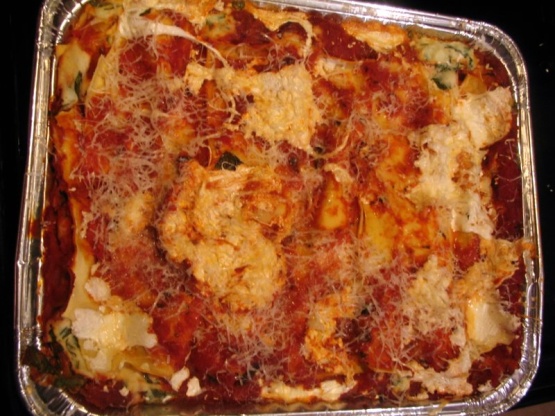 Tomato & Cheese Lasagna
4 recipe photos
7

large tomatoes, peeled, seeded and chopped

1

red onion, diced

4

garlic cloves, minced

4

tablespoons olive oil

1

tablespoon tomato paste

1

bay leaf

3 -5

sprigs fresh thyme, chopped

3 -5

sprigs basil, chopped

3 -5

sprigs parsley, chopped

1

pinch crushed red pepper flakes
1⁄4 lb parmesan cheese, grated
1⁄2 lb buffalo mozzarella, grated

1

cup ricotta cheese
1⁄4 cup fresh basil leaf, finely chopped
1⁄4 cup fresh Italian parsley, finely chopped

lasagna noodle (I use ready-to-bake)
Directions
To make the sauce: Take the onion and garlic, and sauté in olive oil in a large pot for a few minutes.
Add the tomatoes, tomato paste, bay leaf, herbs, crushed red pepper, and prosciutto or ham bone.
Simmer gently for about an hour and a half.
Remove the bone, puree the sauce (carefully, since this will be hot), and taste for seasoning.
The cheeses: Keep parmesan and mozzarella in separate piles.
Add the chopped basil and parsley to the ricotta, and season with freshly ground black pepper.
Layer the lasagne: In a dish that is 10x6x2, begin with a light layer of sauce on the bottom.
Cover with a sheet of pasta, and spread it with sauce.
Sprinkle with parmesan and mozzarella.
Cover with another sheet of pasta and sauce.
Put half of the ricotta and herb mixture on this layer.
Repeat with a layer of pasta, sauce, and mozzarella and parmesan, then another layer of pasta, topped with remaining ricotta.
Make one more layer of pasta and mozzarella and parmesan, ending with a top layer of pasta and sauce and parmesan.
Cover the lasagna with foil and bake 20 minutes in a preheated 350-degree oven.
Remove the foil and bake another 20 minutes or so, until the top is crusty and golden.
Let sit for 5 or so minutes after removing from the oven.
Cut into portions, grate with fresh parmesan and serve.
Note: You can use store-bought sauce as a time-saver, but if you have the time its worth the wait.
This may also be made earlier in the day: assemble and keep in the fridge until ready to cook.