"Inspired by
Rebecca's Jewish Rye Bread
-- This fragrant tomato onion rye bread is studded with caraway seeds, has a a tender texture and a buttery outside crust. Great for ham and cheese sandwiches with tomato and lettuce; or use the bread for plain old grilled cheese sandwiches. Don't forget the pickles!"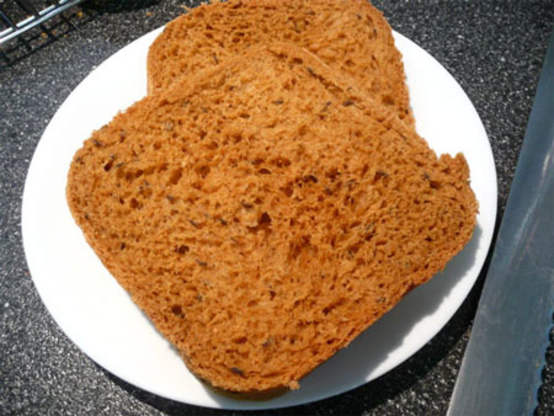 Tomato Onion Rye Bread
3 recipe photos
Directions
Measure wet ingredients (water and tomato sauce to equal 1-2/3 cups, PLUS 1 tablespoon MORE water, molasses, olive oil, and lemon juice) into ABM pan.
Measure rye, whole wheat, and bread flours, vital wheat gluten, caraway seeds, and dried onions into large mixing bowl.
Spoon dry ingredient mixture into ABM pan.
Measure bread machine yeast ~ add it to one corner of the ABM pan.
Measure salt ~ add it to opposite corner (from the yeast) of the ABM pan.
Select DOUGH cycle (or whole wheat cycle, 2-lb loaf, and light crust, if baking in the ABM).
Check dough after machine has mixed for about 5-8 minutes ~ push any visible flour from corners of pan into dough with a spatula ~ check dough for a nice smooth consistency; if dough appears too dry or shaggy, then add 1 teaspoon water ~ if dough appears too wet, add 1 teaspoon flour.
Caution: Rye flour dough mixture should appear to be stickier/more wet than doughs made without rye flour!
For baking in the oven after using the DOUGH cycle, pour dough out onto a plastic mat (or onto table or counter top) sprayed with cooking spray.
Punch down the dough and shape into a loaf; place dough into a 10-5/8 x 5-1/2 x 2-3/4 loaf pan sprayed with cooking spray; slash dough diagonally three times; let dough rise again for approximately 40 minutes, or until dough is 1 1/2 inches above baking pan.
Preheat oven to 350°F (glass) ~ or preheat oven to 375F (metal pans).
Bake in a 10-5/8 x 5-1/2 x 2-3/4 Pyrex loaf pan at 350F for 20 minutes ~ check loaf and tent with foil if bread is browning too fast ~ bake another 10 minutes for a total bake time of 30 minutes.
Cool in pan 5 minutes, then turn onto a wire rack ~ cool 20 minutes.
For a soft buttery crust, brush about 2 tablespoons melted butter over entire outside surface of bread (top, bottom, and sides). Cool completely, then place bread into a plastic bread bag for storage at room temperature.
Note: Dough can be divided into two 1-lb loaves; and baked in 8x4 metal pans at 375F for 20-25 minutes.