"Okay, couldn't think of a catchy title. I made this when I was fed-up with 4 little pots on the stove, trying to achieve the desired 5 veggies/fruits a day! Here the thin crust is the carb, then 3 veggies are used for the rest of the pie. All you need add is the meat course. Preparation of the swiss chard is not included in the prep time. Do it earlier in the day or day before."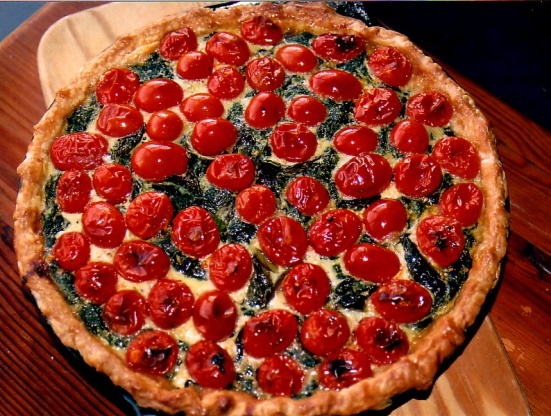 Tomato, Spinach and Spring Onion Pie
2 recipe photos
READY IN:

1hr 5mins

SERVES:

6

UNITS:

Metric
Directions
Set oven at 425 deg F/220 deg Celsius.
Use a generous pie plate: mine wasn't standard, and measured 7 1/2" across at the bottom, 10 1/2 inches across the top, and was a little more than 2" deep. Any pie dish will do.
Roll out the pastry on a floured board, and cut out a generous circle (lay the pie plate upside down on the pastry and cut with a knife in a wide circle around it).
Grease the pie plate lightly with oil, then plonk in the pastry and fit without stretching. Crimp the edges.
Whisk the 3 eggs, then use a brush and brush the pastry all over with the egg. Keep the beaten eggs.If necessary put the lined pie plate in the fridge.
I found lovely purple-bottomed sping onions, but use whatever you have: chop them and scatter evenly into the bottom of the pie plate, to cover. If you don't have spring onions, try rings of sweet onion.
In this case I used Swiss Chard, a soft,light green kind, from my own garden, but frozen, cooked and drained is just fine. I called it "spinach" because it's a shorter word, but swiss chard is what I use. If you prepare this early in the day, you can leave it to drain, and press out more liquid before using. Stir in salt and nutmeg.
Whenever I make a white sauce, I use a shortcut: put the milk in a small pot, whisk in the tablespoon flour, add a pinch of salt, and then whisk until milk comes to the boil and thickens. So try that here, and you cut out the butter normally used.
Pull off the heat, whisk once or twice, then add the cheese, Tabasco and garlic.
Stir the cheese sauce into the spinach.
Also stir in the egg mixture left over after you "painted" the pastry into the drained swiss chard/spinach. The eggs will help firm up the mixture during baking.
Rosa tomatoes are small plum-shaped tomatoes, and they are especially sweet. If you can't get them, use cherry tomatoes or even tomato slices, but in the latter cases, sprinkle over a little sugar. Rosa tomatoes simply explode in the mouth in a burst of sweet flavour.
Ladle the swiss chard mixture over the spring onions in the lined pie plate. Scatter the basil leaves over the swiss chard.
Pack the rosa tomatoes all over the top. (See my original photograph). If not using rosa, sprinkle over a little sugar.
Brush with olive oil or, preferably, spray the tomatoes with an olive oil and garlic spray.
Put in the preheated oven. Keep at that high heat for about 10 - 15 mins, then turn heat down to 350 deg.
Bake for about 30 mins or more, until pie has risen and is set.
Serve hot or warm, in slices, with a main dish of meat and a side salad.