"An adaptation from an old family "Traditional Mincemeat" recipe which was passed down through my Mum's side of the family. This one however is FAT FREE - NO suet or butter and it still KEEPS for up to a year or two; I currently have a jar from 3 years ago which has aged and matured beautifully! I have called it traditional mincemeat as it has all the traditional ingredients apart from the fat and it is VERY EASY to make. I am posting this in early September so it can be made now and allowed to mature ready for Christmas MINCE PIES. Where I have stated rum or brandy, please use any strong liquor that you may have available; it's just that brandy or rum work very nicely with the ingredients. Make some pretty labels, add a paper or fabric lid cover with a ribbon and then hang a pie, scone or cookie cutter from the neck - and voila, a thoughtful home-made gift! N.B. It's the alcohol that keeps this mincemeat, so if you want a non-alcoholic version, I have a traditional suet mincemeat recipe posted, which does not need much if any alcohol -
Traditional British Mincemeat for Christmas Mince Pies!
."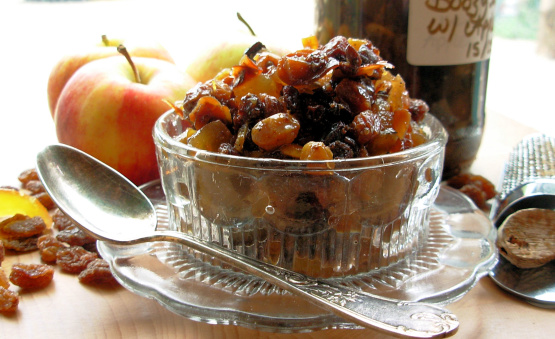 Traditional British Boozy Mincemeat - Fat Free
6 recipe photos
Directions
Put the cider and sugar into a large saucepan & heat GENTLY until the sugar has completely dissolved.
Stir in the rest of the ingredients, except the brandy or rum and slowly bring to the boil - stirring ALL the time!
(Please note it is not necessary to peel the apples - just core and chop them up finely.).
Lower the heat and partially cover the saucepan and simmer gently for 30 to 45 minutes.
Remove from the heat and leave it to become completely cold.
Stir in the brandy or rum and then spoon into cold, sterilised jars, making sure that the mincemeat is packed down firmly with NO space or air bubbles.
Cover with waxed discs and TIGHT fitting lids.
N.B. Kilner jars can be used too - make sure that the rubber seals are new & not perished!
GIFT IDEAS:.
Design and hand write some labels - or use a Christmas template!
Make some paper or pretty material lid caps/covers. Secure with an elastic band & add a ribbon or raffia.
Hang a gift label and a scone, cookie or pie cutter from the ribbon - the same size as your mince pie tin shapes and you have a great home-made gift for someone!
I sometimes add a recipe card too, mince pies OR a mincemeat cake & mincemeat oat slices - look out for them as they are also posted on RecipeZaar too!