"This is an old family recipie that has been passed down through the generations. In our home it is considered a special Christmas treat. Serve with mashed potatoes and choice of vegetables. We like to top ours with a little ketchup."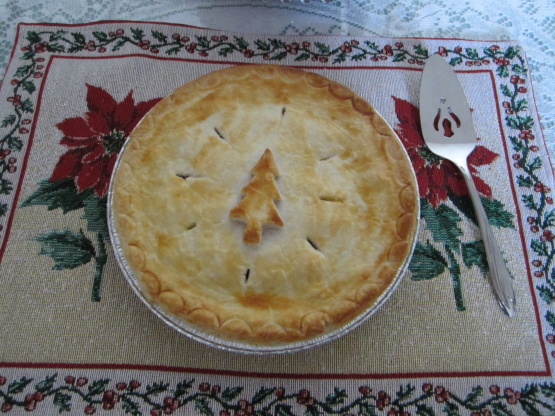 Traditional Christmas Meat Pie
1 recipe photo
Directions
Cut boil and mash potatoes with a bit of milk and set aside.
In a very large pot combine meat with salt, pepper, onion, celery flakes and all seasonings and simmer on med to low heat for 1 hour. Stir occasionally.
Once cooked drain liquid from meat mixture and replace with water and add potatoes.
Mix well and refrigerate over night.
Prepare pastry and divide dough for 6 double crust pies.
Refrigerate pastry over night.
Next morning roll pastry, line pie plates and fill with meat mixture and top with pastry. Cut a few slits in top crust and brush with egg wash. (To make egg wash.
beat 1 egg with a tbsp of milk.).
Bake at 425* for 25-30 minute.
Cool and freeze in freezer bags up to 6 months.
Reheat from frozen at 350* for 45-50 minute.