"These look awesome and tastes awesome too."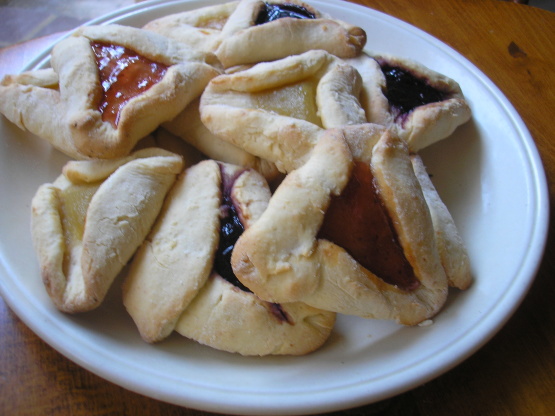 Tri Cornered Cream Cheese Cookies With Jam Filling
1 recipe photo
Directions
In a large bowl, combine sugar, butter and cheese. Beat till light and fluffy. Add vanilla and egg; blend well. Add flour and salt. Cover with plastic wrap and refrigerate for 1-2 hours for easy handling.
Heat oven to 375°F
On lightly floured surface, roll out half of dough as a time to 1/8 inch thickness (Keep rest of the dough in the fridge for the mean time).
Cut with 2 and a 1/2 inch round cookie cutter. Place one inch apart on UNGREASED cookie sheets.
Spoon 1 tsp jam on center of each round.
To shape into triangles, fold 3 sides without covering jam; pinch corners to seal.
Bake at 375°F for 7 - 10 minutes or until edges are light golden brown. Cool for 1 minute and remove from baking sheets. Dust with powdered sugar if desired.