"What do you get when you combine white/milk/dark chocolate with peanut butter? A small waiting period between adding different layers. From a supermarket handout."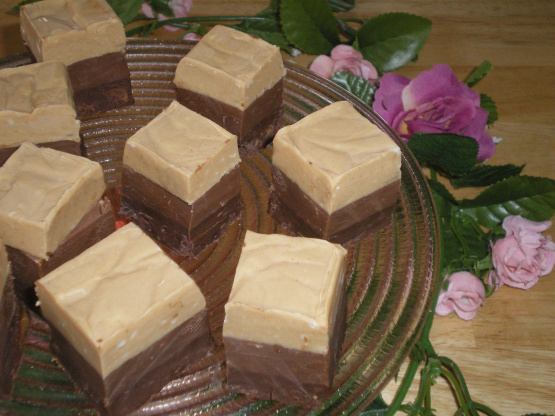 Triple Chocolate Peanut Butter Truffles
1 recipe photo
WHITE CHOCOLATE LAYER

1

cup finely chopped white chocolate (6 oz)

7

tablespoons all-natural salted peanut butter (scant 1/2 cup)

MILK CHOCOLATE LAYER

1

cup finely chopped milk chocolate (6 oz)

7

tablespoons all-natural salted peanut butter (scant 1/2 cup, room temperature)

DARK CHOCOLATE LAYER

1

cup finely chopped dark chocolate (6 oz)

7

tablespoons all-natural salted peanut butter (scant 1/2 cup, room temperature)
Directions
Line an 8x8 or a 9x9 inch pan with foil and spray with vegetable oil.
Melt white chocolate using the double boiler method or a metal bowl on a saucepan filled halfway with warm water. Melt slowly, stir the chocolate after it has begun to melt and continue stirring every minute or so. After 6-8 minutes, when the chocolate is three-quarters melted remove top pan from heat and stir until chocolate has completed melted and chocolate is smooth. Immediately stir in peanut butter and stir until smooth. Pour into prepared pan and let sit 30 minutes at room temperature then refrigerate 30 minutes until firm.
Prepare milk chocolate layer the same as the white layer. After the addition of the peanut butter remove pan from fridge and add milk chocolate layer. Let sit at room temperature for 30 minutes then back in the fridge for another 30 minutes.
Prepare dark chocolate layer using the same method. Remove pan from fridge, add dark layer to milk chocolate layer, keep at room temperature 20 minutes, refrigerated for 1 full hour or until top layer is firm to the touch.
Remove pan from fridge and lift from pan. Turn upside down onto a cutting board and peel away the foil. Let stand at room temperature for a few minutes then trim the edges so sides are smooth. Make 9 cuts vertically the horizontally giving you approximately 81 squares. Store in an airtight container in the fridge and serve slightly chilled.