"The orange flavored raisins make these so good. Make sure to soak them at least 15 minutes! EDIT: I tried these with cranberries and they do not work as well as the raisins. I would imagine any *dried* fruit would work best, since letting it soak in liquid (triple sec) reconstitutes its moisture, whereas cranberries will not absorb as much liquid. Hope that helps!"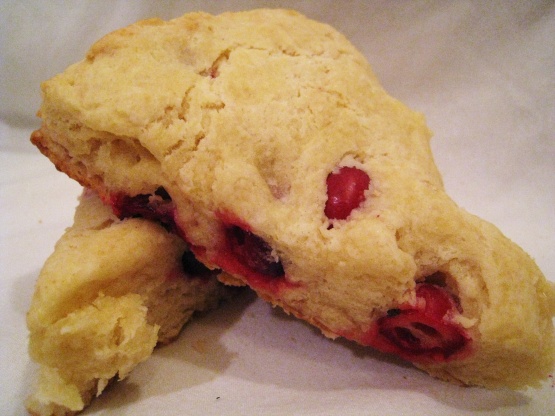 Triple Sec Cream Scones
2 recipe photos
Directions
Soak the raisins in liqueur for at least 15 minutes ahead of time. (add more triple sec if it doesn't cover the raisins).
Preheat oven to 425°F.
Combine dry ingredients and cut in the butter with a pastry blender until it resembles course meal.
Drain the liqueur from the raisins.
Mix the eggs, cream, and raisins.
Add the egg mixture to the flour mixture, stirring just until a dough forms.
Turn the dough on to a floured board and knead LIGHTLY for one minute (don't overwork the dough).
Pat the dough into a 3/4 inch thick round. Cut into 8 wedges and place on a lightly greased cookie sheet.
Bake for 15 minutes until golden.