"Absolutely delicious, moist & sweet. Packed with fiber and vitamins. Great for diabetics or those watching their fat and sugar intake. If you have trouble finding unsweetened dried mango, unsweetened coconut, ground flax seed, etc., check out natural foods stores such as Trader Joe's, co-ops, and ethnic grocers."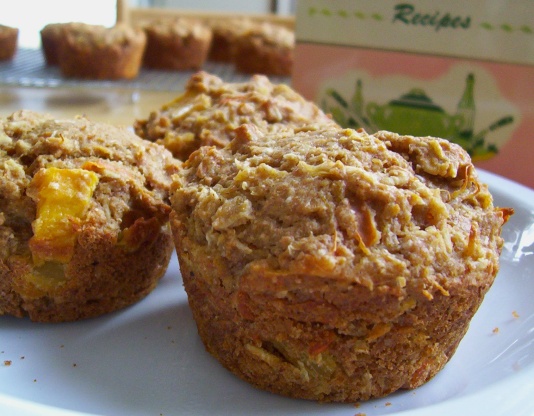 Tropical Spice Muffins
1 recipe photo
Directions
Preheat oven to 400 degrees fahrenheit. Spray a 12-cup muffin tin with non-stick cooking spray and set aside.
In a medium mixing bowl, combine the rolled oats and ground flax seed with the crushed pineapple, reserved pineapple juice, apple juice concentrate, oil, carrots, coconut, and mango. Set aside for 10 minutes while you sift together the dry ingredients.
In a large mixing bowl, sift together the flour, spices, baking soda, baking powder, and salt. Pour in the pineapple mixture and stir together until the all the flour is just moistened. Do not over-mix. The batter with be thick.
Distribute evenly among 10 of the muffin cups, filling to the top. Fill the 2 remaining empty cups with 1/4 cup of water each.
Place on the middle rack of the pre-heated oven and bake for 20 minutes or until the tops are light golden brown. Test for doneness with a knife or toothpick. Let cool in the tin for 5 minutes, then remove from tin and let cool on a wire rack.