"Great vegetarian meal complements of Whole Foods. Feel free to mix it up and use a combo of button, shiitake, portabello, and/or oyster mushrooms! This is best at room temperature, so it is perfect to serve as an appetizer for a party! Also great served with a salad as a meal."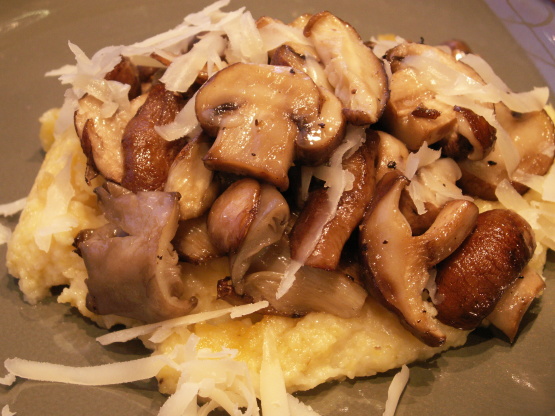 Truffled Roasted Mushrooms on Garlic Polenta
1 recipe photo
Directions
Preheat oven to 500°F
Bring milk, garlic, pepper and salt to a boil over medium heat. Slowly whisk in cornmeal, stirring occasionally for about 10 minutes. Transfer to a small sheet pan and smooth with a spatula. Set aside to cool.
Toss mushrooms with truffle oil, salt and pepper on a large sheet pan. Roast until tender, 7 to 10 minutes.
Use a 2-inch round cookie cutter to cut polenta into rounds. Sear both sides in a hot pan over high heat for 1 minute.
Arrange polenta rounds on a platter and top each with roasted mushrooms. Grate cheese over tops. Garnish with basil and balsamic glaze.
Serve at room temperature.