"I meant to make Turkey Burgers tonight for dinner and found a recipe on Food Network from Bobby Flay which I altered slightly. Although it says Kofte, I thought it would still be yummy...and it WAS! I will say that it's not as much burger as it is kofte or meatloaf-like, but if you want a great recipe for ground turkey, here it is. Enjoy!"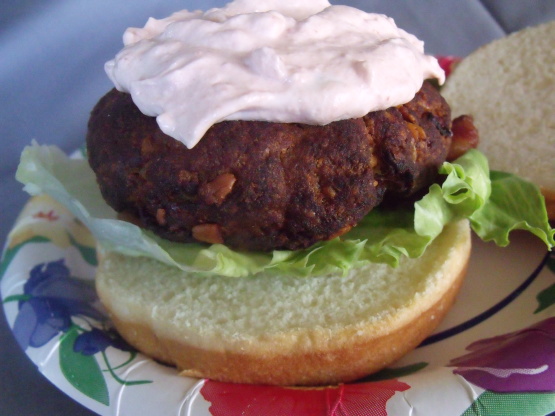 Tukey Burgers (Adapted from Bobby Flay's Turkey Kofte Recipe
2 recipe photos
Directions
Mix all ingredients except turkey together.
Add turkey and mix well.
Form into large patties 1/2 inch to 3/4 inch thick.
Place onto a plate and separate patties with plastic wrap, then place in fridge for at least 1 hour to let flavors meld. (I pre-made the patties before-hand as I did not want to have to do them later. You could place the whole bowl in the fridge then form the patties before you cook them too.).
When ready to cook, take plate of patties out and place oven on Hi broil.
Spray broiler pan with Pam then add the patties.
Broil patties about 6-7 inches from heat for 6 minutes one side, flip then broil 6 more minutes. Flip again, broil 2 more minutes then take out and add cheese to melt ontop.
For my fixin's, I like to mix my mayo and ketchup together and spread on buns along with some avocado and sauted mushrooms, lettuce and tomato.