"I decided to make tuna patties the other night, even though I never liked them as a kid. I decided to add some of my favorite ingredients to them to see if they would enhance the flavor of the patties. They were wonderful!!!! :-) ENJOY! )prep time does not include time to boil potato. Sometimes I use leftover mashed potatoes to make these! doesnt hurt!)"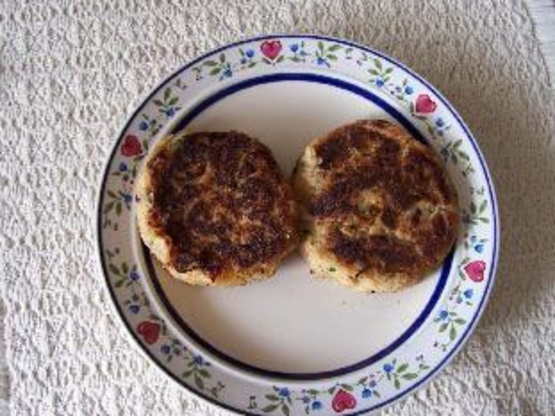 Tuna Patties
2 recipe photos
Directions
Boil potato until soft (as you would for mashed pots.); Mash.
Saute chopped onion for 2-3 minutes.
add onion to mashed potato.
Add cayenne pepper to the mashed potato as well; mix thoroughly.
Open can of tuna and drain liquid.
Put tuna in a medium bowl.
Add potato and stir until mixed through.
add egg and mix through again.
Add the bread crumbs, parsley, garlic powder, salt, and pepper and mix well with hands (its really the best way to get all of the ingredients mixed VERY well.) If you feel that the mixture is too moist (due to size differences in eggs), you may add some more breadcrumbs (a small amount!), but BE CAREFUL!
Do not make mixture too dry as you may encounter breakage while cooking patties!
Put olive oil in a nice sized frying pan, and rub olive oil over the pan with cloth; heat on medium-high.
Form patties (2-3, depending on how large or small you wish to make them).
Put patties in the heated pan and cook 6-8 minutes on each side, depending on how large you made each patty.
If you made 3 patties, 6 mins per size should be just fine.
Brown nicely on both sides!
You may need to add a little more oil while cooking, but do not add too much!
Enjoy alone or on a bun.
I eat mine on a bun with ketchup!