"In 2006 we had a Zaar lunch at Efes One Turkish Restaurant at Albion in Brisbane. Their Turkish banquet was fabulous and this is one of the entrees we had. I wrote down the name of it on a table napkin, then googled recipes when I got home and experimented until I was able to replicate it. There are quite a few steps, but it's really quite simple and well worth the effort. Essentially these are fried potato and eggplant stacks, interspersed with a thick tomato sauce and then drizzled with garlic flavoured yoghurt and garnished with chopped parsley. The taste just 'zings' in your mouth! Don't overdo the chilli - it's only supposed to have a little background heat. Just a final note, the skin of larger eggplants may go tough when you fry them, so opt for small to medium if you can."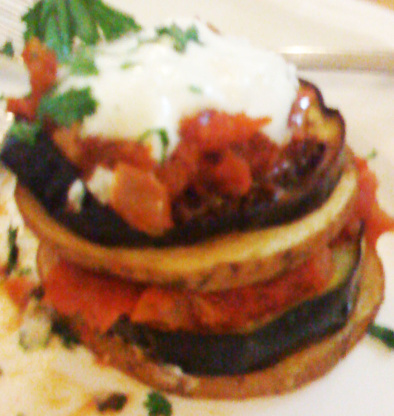 Turkish Eggplant and Potato Kizartma With Tomato Iskender Sauce
1 recipe photo
Garlic Yoghurt

1

(200 g) container natural yoghurt

2

teaspoons garlic, minced (I used bottled garlic for this)

Tomato Iskender Sauce

25

g butter

1

small onion, finely chopped

3

garlic cloves, finely chopped (fresh)

1

small red chili peppers, finely chopped or 1⁄2 teaspoon minced chile

1

(410 g) can chopped tomatoes

2

tablespoons tomato paste

Kizartma

2 -4

eggplants, sliced 1/4-inch thick (you'll need enough eggplant slices to cover a slice of the potato, multiplied by 12)

2 -3

medium potatoes, unpeeled, sliced 1/4-inch thick (you'll need 12 slices)
1⁄2

cup oil, approximately

Garnish

1⁄3 cup fresh parsley, finely chopped
Directions
Garlic Yoghurt:.
At least an hour before serving, combine yoghurt and garlic in a small bowl. Stir, cover and refrigerate. When you start cooking, remove from refrigerator and allow yoghurt to come back to room temperature.
Iskender Sauce:.
Melt butter in a small frying pan over a medium heat.
Add onion, garlic and chilli and cook until onion is transparent - about 5 minutes.
Add tomatoes and tomato paste to the pan and cook, stirring, until the mixture comes to a boil.
Boil for 5 minutes, then reduce heat and simmer gently, stirring occasionally, for about 30 minutes until the sauce is rich and very thick.
Taste and add salt as required.
Kizartma:.
Preheat oven to 100C (you're going to use this to keep the eggplant warm after you've cooked it).
Heat some of the oil in a large frypan and fry the eggplant slices, in batches if necessary, until brown on both sides, adding more oil as required.
Line a dinner plate with kitchen paper and transfer eggplant to the plate when cooked.
Keep eggplant warm in the oven while you cook the potatoes.
Add some more oil to the same pan, and fry the potato slices until golden brown on each side.
To assemble:.
Make 4 stacks, alternating potato, eggplant and a dessertspoon of tomato sauce. Each stack should have 3 slices each of potato and eggplant. Finish each stack with a spoonful of sauce, then drizzle each stack with garlic yoghurt (being careful not to topple it).
Sprinkle with chopped parsley and serve.