"Not much more work and way better than a box!"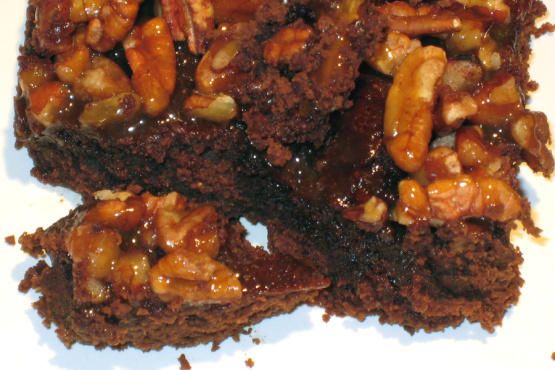 Turtle Brownies
2 recipe photos
Directions
Preheat oven to 350 degrees. Grease 13 x 9 inch baking pan.
Mix the sugar, butter, eggs, and cocoa until just blended.
Slowly add flour and one teaspoon of the vanilla. Mix until just blended. Spread batter in pan.
In saucepan over low heat melt caramels, with can of evaporated milk and remaining teaspoon of vanilla extract.
Bake brownies for 5 minutes.
Remove from oven and pour all but a 1/4 cup of the caramel over the brownies. Cut caramel into brownies with a knife. Pour chopped pecans over brownies and gently press into brownie batter.
Bake about 20 more minutes. Do not over bake. Let cool on wire rack.
Once brownies have cooled drizzle remaining caramel over the top. Let set for at least 10 minutes before cutting.