"I love twice baked potatoes, but I wanted to be able to serve them more easily so I decided to put them in muffin pans."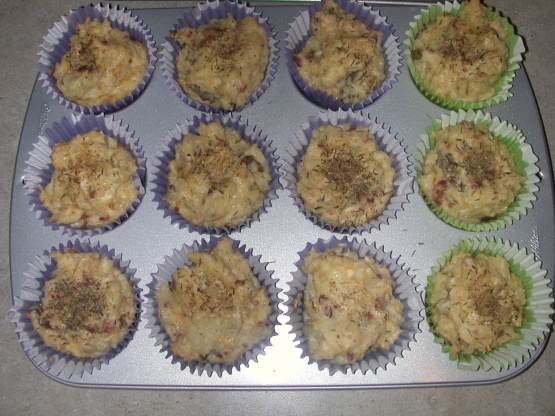 Twice Baked Potatoes in a Muffin Pan
1 recipe photo
Directions
Heat oven to 375 F.
Poke holes in rinsed potatoes, rub with olive oil and salt, place on baking sheet and cook 60-70 minutes.
While potatoes are cooking prepare the bacon as you normally would
Dice onions.
When potatoes are done cooking, remove from oven and allow to cool 15-20 minutes or until you can handle them comfortably.
Once potatoes have cooled cut them in half and scoop out the flesh into a large mixing bowl. (You can save half the skins to mix as well if you wish; be sure to coarsely chop the skins before placing them in the mixing bowl).
Turn oven back on to 350F.
Mix cheese, sour cream, bacon, and onions into the potatoes with a spoon or electric mixer.
Line muffin pan with cupcake/muffin liners and scoop mixture into liners.
Sprinkle with thyme and ground corriander.
Place muffin pan into 350F oven for 20-25 minutes or until tops of "muffins" are browned.