"Trail mix isn't a unique idea, but I often have ingredient issues here & got inspired by Ultimate Trail Snack Mix
Ultimate Trail Snack Mix
by looneytunesfan. Using ingredients I easily found at my local bargain grocery store, I put this together & we plan to give it my DH's family in an assorted food gift Christmas basket. The packaging is what makes it fun & "candy for the eyes". I saved clear glass bottles, pretty ones w/tight-fitting caps or corks. A cognac bottle & heart-shaped limoncello bottle from Italy come to mind as I type. I removed the labels, filled them w/the trail mix & put them in our freezer to await the holidays. Some bottles even came in boxes that will be gift-wrapped. I'll put 1 in ea basket & make gift labels that say "This bottle is refillable. If I get it back, you'll get it back next Christmas." … Just 1 more way a family tradition is born."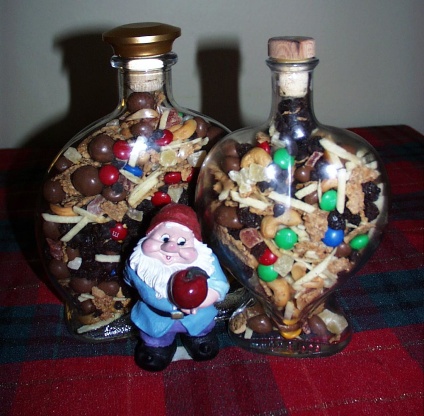 Twisted Sister's Eye Candy Trail Mix
1 recipe photo
1 1⁄2 cups chocolate chips
1 1⁄2 cups shoestring potatoes (or pretzels)
1 1⁄2 cups raisins (plain)
1 1⁄2

cups chocolate-covered raisins

1 1⁄2 cups cashews
1 1⁄2 cups peanuts
1 1⁄2

cups M&M's plain chocolate candy (red, green & bright colors only to keep the X-Mas theme going, Leave brown out)

1 1⁄2

cups dried banana pieces

1 1⁄2 cups dried limes (candied, or pineapple)
1 1⁄2

cups cereal (I use Nestle's Fitness)
Directions
Combine all ingredients. Store in airtight containers in a freezer till ready to use.
NOTES: I needed an average of 3 cups trail mix for 5 bottled gifts, so I picked 10 items X 1½ cups = 15 cups. For the limes, I sliced thinly, candied them using a recipe Neta here at RZ found for me at another site & then cut them in sml pieces. I wanted to use red cinnamon candies for the red colour & tasty flavour, but I can only get them in the US. I'd never eaten the cereal I used till I came to Iceland, but it's a crunchy, sweet, cinnamon coated wafer type cereal I like. Any cereal favourite can be used if it's "sturdy" enough to hold up in the mix (like Chex does). There are really no rules for this except have fun!
PIC NOTE: Altho not the season now, I posted a pic to show the "prototype".
get the genius kitchen app.
Watch on your iPhone, iPad, Apple TV, Roku, or Fire TV.
Learn More